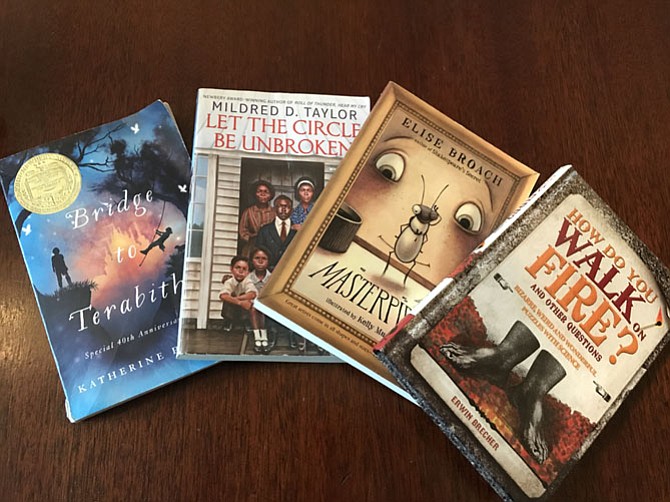 "Summer reading is all about exploration and inspiration, so let the readers take charge." — Julie M. Esanu, Lower School Librarian, St. Stephen's & St. Agnes School
Encouraging children to read during summer months can be challenging for some parents, but worth the effort, say local educators, because diving into books offers students an opportunity to boost their reading skills before the start of the next school year. Book clubs with their peers allows children to read in a relaxed, informal setting.
"Book groups during summer vacation are the perfect time for friends to gather and share the love of reading," said Julie M. Esanu, lower school librarian, St. Stephen's & St. Agnes School in Alexandria. "The summer is a perfect time for readers to explore and enjoy a variety of books across different genres and formats, including ebooks, audiobooks, and graphic novels."
While parents must provide a basic structure for the book club, Esanu says that allowing children to be involved in the planning and book selection, will cultivate a positive attitude toward books and reading.
"Summer reading is all about exploration and inspiration, so let the readers take charge," said Esanu. "Consider the members of the book group and their various interests when selecting titles and let the members have a say in what they're reading."

Allow for organic discussions inspired by the readers rather than formal discussions that require too much preparation, advises Esanu. "[Formality] feels too much like homework for students and we want them to dive into books during summer," she said. "Kids have a lot to say about the books that they read and that can lead to fabulous conversations. It is important for children to select the books that they read, especially over the summer."
In her role as the lower and middle school librarian at Bullis School in Potomac, Katherine Brewer helps students make book selections by asking them about the last book they read and enjoyed. "This helps me find out what types of books they are into and suggest other titles they might like," she said. "I might ask what about the book they liked. Then I will give several suggestions."
Preparing and organizing the book club session without over planning, avoids chaos and leads to success, advises Laura Maffei, humanities teacher at BASIS Independent School McLean. "Set the stage by helping the children to understand the setting and any unfamiliar events or vocabulary they might encounter," she said. "For example, before reading 'Misty of Chincoteague' learn about Virginia, specifically Assateague and Chincoteague Islands, watch a documentary on the round up, make a craft that teaches the parts of a horse and its riding equipment, look at examples of life in the 1950s to see how it differs from today."
WHEN THE MEMBERS of the book group are not all at the same reading level, as can be the case with children, reading the same book can be pose a challenge, says Maffei. "… An option would be to read the same content, but each reader gets a book at their reading level," she said. "I've done this with Shakespeare, Greek Mythology, and classics like 'Peter Pan' that come in a variety of book types from picture to early reader to original text.
"
"If the children aren't around the same age [and] reading level or have varying interests, I would select a topic and suggest books that they could read and share," added Brewer. "Students can have the book read to them or listen to an audio version if they prefer."
Brewer, who runs book clubs for students at Bullis, says that during her meetings, children share the book they read and encourage others to read it. She also discourages penalizing children who haven't finished the book. "We use the book talk format popularized by [the television series] 'Reading Rainbow,' share a bit about the book and why others would want to read it, but no spoilers," she said. "They will be more interested if they have choice and input in the club's topic, books and activities."
Book club activities are an important tool in helping children develop a love of reading, says Tom Longano a third grade teacher at the Heights School, an all boys school in Potomac. "With most of our books I will invent a quick game that includes acting out the characters or key events from the story," he said. "I have found this to be an excellent way for the boys, who often have a very concrete approach to the world yet boundless imaginations … to enter into the stories and feel them as actually real. This generates a love for the books that goes beyond just reading them, because they have in a sense lived them as well, acted them out."
Longano says that this excitement about books can also be achieved with dramatic readings and assigning children characters from the book and having them act them out. "Anything to bring the text off the page and into their direct environment," he said.
"The activity should be fun and hands on, with the children taking the lead on the project," said Brewer.
Summer book club activity ideas include visiting local public libraries or bookstores and browsing the shelves for ideas, says Esanu. "Visit the Alexandria or Arlington Public Library or an independent bookstore, such as Hooray for Books! in Alexandria or One More Page Books in Arlington, and browse the shelves for ideas," she said. "Each book club member could choose a book that catches their eye and then the group could vote on which book they want to read."
Reading a book and taking a field trip that is related to the book is another activity that Esanu recommends. "For example, Tonya Bolden's award-winning book, 'How to Build a Museum' shares a behind-the-scenes look into Smithsonian's National Museum for American History and Culture," she said. "This is a great way to explore the museum before a visit."
"Jack and the Geniuses: At the Bottom of the World" offers inspiration for another journey, says Esanu. "It's the first book in a series packed with adventure, science and engineering and is written by Bill Nye [from the children's television series, "Bill Nye, the Science Guy"] and Gregory Malone," she said. "This would be the perfect book to read before heading the National Building Museum to explore the Hive Interactive Exhibit [which runs through Sept. 4]."
Guiding a discussion by asking questions that connect the book to current or personal events, playing games such as Charades, 20 Questions or Pictionary can help spark a lively discussion of the book, says Maffei.
"If the book has a movie version, watch the movie after reading the book," she said. "Look for differences in plot, how the characters and setting look compared to how you thought they'd look."
Offer an opportunity for children have a snack to talk informally, advises Esanu. "Make sure that there's food involved and find new places for the group to meet, maybe in a park or by the pool," said Esanu. "Mix it up."
"Themed snacks are fun," added Maffei. "Maybe something that gets eaten or drank in the book or something from the same time period or place."