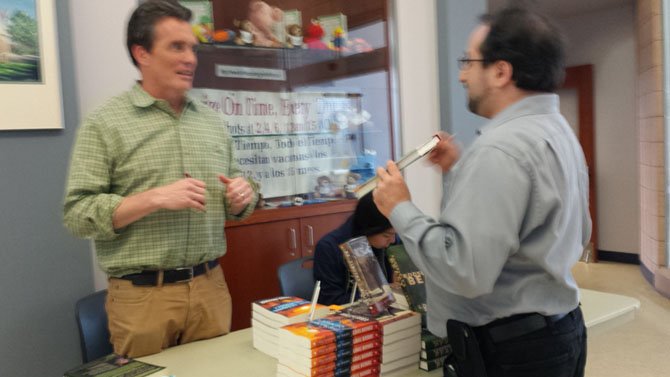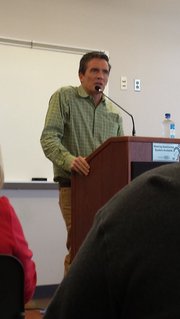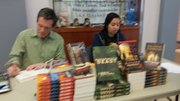 On Saturday, Sept. 13, award-winning author, Louis Byrd, returned to Springfield just in time for "Fall for the Book," an annual event that brings authors from across the nation and across the world to Fairfax County to share stories about their work and their experiences. "We're in our 16th year," said Art Taylor, marketing director for "Fall for the Book." The event, which usually lasts about a week, features authors who speak at venues throughout the county, Washington, D.C., and even as far as Bethesda, Md. "The event is made possible by sponsors who offer space, time and money," said Taylor. One challenge to making the event possible is the breadth of the program, said Taylor. However the breadth is what also allows for more people to be a part of the experience, including local authors, like Bayard.
While there are different ways that authors get involved with "Fall for the Book," Bayard's story is somewhat unique. Bayard, who is in D.C. and has been a part of "Fall for the Book" before, was booked through a chance encounter. "I became familiar with his work after reading one of his short stories," said Joe Tilton, who helped bring Bayard to the library. It was not until years after reading Bayard's short story that Tilton started volunteering for Richard Byrd Library and thought about getting in touch with the author to see if he would be a part of "Fall for the Book." "I remembered reading about Springfield Mall in a story he wrote and wanted to see if I could contact him. It was a chance encounter that went really well." Bayard's piece "Survivor" was about his experience auditioning for Rudy the Reindeer at Springfield Mall. The humorous piece was published in The Worst Noel: Hellish Holiday Tales, an anthology.

A product of the Fairfax County Public School system, Bayard attended Washington Irving Middle School and graduated from West Springfield High School. He went on to Princeton University for his B.A., and then to Northwestern University for his M.A. He says he draws on his experiences growing up, all the time. Bayard's visit was sponsored, in part, by Friends of the Richard Byrd Library, and his works include The School of Night, The Black Tower, The Pale Blue Eye, and Mr. Timothy. At Richard Byrd on Saturday, he discussed his most recent book, Roosevelt's Beast, in which he tells a story about what happens when Roosevelt leaves civilization behind. In the story, Roosevelt and his son, Kermit, have to track down a never-before-seen beast that moves only at night and disembowels its victims. Bayard read selections of his book and had copies of the book on hand for guests to purchase and have autographed.
Bayard says he treats the writing process very much like a job and was inspired to become a writer because of his love of reading. You can find out more about him on his website, at louisbayard.com. This year's "Fall for the Book" event lasted from Sept. 11-18. For more information, visit fallforthebook.org.