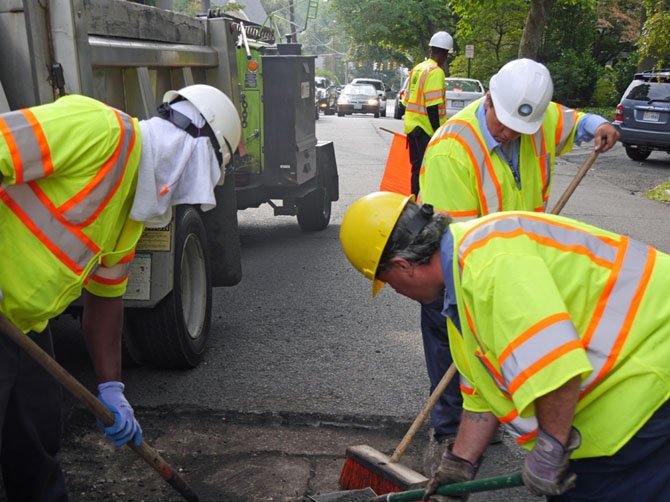 Earplugs in, yellow vests zipped up and protective eyewear in place. A large white knob on the back of the protective helmet adjusts it to an individual's head size. The 65 -pound jackhammer blasts into the 6 x6 foot square of asphalt at the High and Orchard intersection in Alexandria. A 7x3 foot piece of asphalt has been marked and is waiting.
Photo Gallery
Patching City's Potholes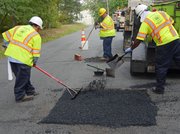 Click Photo for Flash
Robert Henderson, labor supervisor for the City of Alexandria Transportation and Environmental Services Division of Public Works Services, says "we should be able to finish these in about half an hour."
He turns the jackhammer over to Andrew Smith, one of his crew. Henderson jokes, "when I get tired they take over." He walks down the road where he has put up an arrow board and has blocked off one lane with orange cones for safety. He waves the large flag to direct traffic around the work area. It's all about safety. Everyone waves as another city truck drives by.
Smith and Flo Gomez-Duenas, another crew member, earlier had fired up the propane on the back of crew truck #4152 to 350 degrees. "See the flame — stand back. It takes less than 5 minutes to get hot and ready for the asphalt." They had driven by the compound yard where they have all of the sand, rocks and trucks. Smith points to the salt bins and white tank of liquid calcium. He says, they are getting ready for snow removal way in advance so they don't have a backlog in December. They arrive at Virginia Paving Company and head for the chutes.
Today they pull into 2B and wait for 1.5 tons of asphalt to be dumped into the tank. The loaded truck lumbers toward the first repair of the day. Smith said Henderson would be at the site already preparing the work area for the rest of the crew. They expect to repair 15-20 potholes today. Last winter when things were really bad, they would sometimes do 100 in a day. "Salt on the roads for melting ice eats up the asphalt; it really does." Arriving at the site, Smith pulls the asphalt truck behind Henderson.
Henderson says, "Everyone on the crew can do everything; we are interchangeable and even the sewer guys can come help if we need it, and we can help them, too. I wouldn't change my crew for the world."
After the jackhammer breaks up the asphalt, the debris gets shoveled into a truck for recycling and the hole gets swept clean. Gomez-Duenas shovels in the new asphalt and then levels it off. Henderson says, "You have to watch the bottom of your loop to make sure it is level. After all of these years, I just eyeball it. They tell me you got four eyes. You see better." He turns to Gomez-Duenas and says, "Looking good baby, looking good."
Devon Scott, a contract employee on the team, has been helping shovel asphalt and then heads for the tamping machine. He pushes it back and forth, and steam rises as the machine sprays water to cool down the hot asphalt. Today's potholes are a permanent patch. Some days they do "stop and drop" repairs where they shovel in asphalt for small areas; sometimes they fill alligator cracks. Residents report potholes to the city and if it is an emergency they try to get to them as soon as possible. "Sometimes people gets disgruntled," Smith says,"especially if we are making repairs on a hot 'red' route (main road) and they are in a hurry to get somewhere. But then they realize we are fixing their problem, and they are glad we're there."
Henderson said he has been working for the City of Alexandria most of his life. His first job had been with the phone company but he didn't like it very much. Now he works 10-hour days Monday-Thursday. He said he started in 1979 and worked 12 years as a labor 1, then four years as an operator 1, followed by a heavy equipment operator. He has done it all from street sweeping to sucking up leaves, repairing bricks to eliminate hazards for citizens to all-purpose salt box. "I come to go to work. If they need me as a backhoe operator, I'm a backhoe operator." He said people drive by and they think they see one person working and four people standing around. But they don't know all of the steps it takes to do this job."
Henderson has lived in Alexandria his whole life and attended T.C. Williams High School. He has been working around Alexandria for so many years he knows the individual fire hydrants, potholes and streets. He says, "The city is like your own backyard."