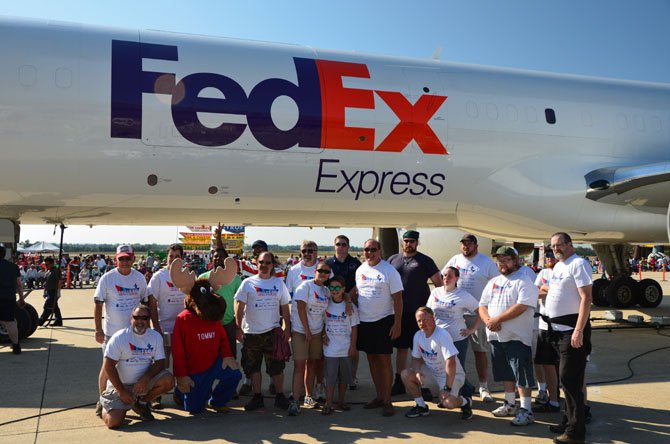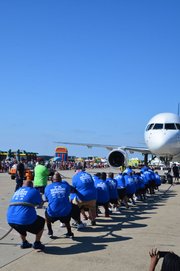 On Saturday, Sept. 20, Dulles Airport held its annual plane pull. The Dulles Day plane pull, which began in 1993, featured 70 teams of 25 people competing to pull an 82-ton 757 FedEx Cargo Jet 12 feet in the shortest amount of time. Now in its 22nd year, Dulles Day is a festival that includes live music, airplane displays, tours of the runways, kids play areas, a dunk tank and more.
The event raised a record $248,000 last year for Special Olympics Virginia. "Our athletes face a number of foes and opponents each day but none is more pervasive than low expectations," said Special Olympics Virginia President Rick Jeffrey. "Thank you to the Northern Virginia community for supporting the Plane Pull for the 22nd year, and for helping us reach new fans, raise expectations and unify communities everyday through the power of sport."
Prior to the Plane Pull runners, walkers and stroller pushers participated in the 5K/10K on the Runway. The Dulles Airport Runway was closed off to airport traffic so participants can run past planes and along the actual landing strip. This event was limited to 2,500 runners. At 10:30 a.m. gates were opened for the many family activities, which included a display of planes and vintage aircraft, in addition to equipment displays by Airports Authority Police, Fire and Rescue and Maintenance. Winning the event for the 8th consecutive time was the Chesapeake Sheriff's Office which pulled the plane in 5.114 seconds. Second place was won by the Fairfax County Sheriff team. The team which raised the most money for the fundraiser was Booz Allen Hamilton.
Since the first-ever Plane Pull was held in 1993 at Dulles International Airport, Special Olympics Virginia has raised more than $2 million for athletes with intellectual disabilities throughout the state, and also started a worldwide plane-pulling phenomenon. As the Andrews Air Force Base Open House and Air Show has been indefinitely grounded, aviation events such as the Dulles plane pull have been drawing increased attention. Next year, organizers of the plane pull hope to feature 80 teams. For more information, volunteer, or sponsorship details, visit www.planepull.com