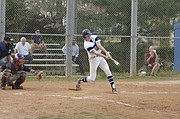 The West Potomac baseball team was off to a 2-4 start in March when head coach Jim Sullivan expressed the frustration of a team struggling to score runs.
The Wolverines were held to four or fewer runs in four of their first six games, had been shut out twice and came out on the wrong end of two one-run contests.
"So far, it's a very depressing season because I expect a lot more out of this team," Sullivan said in the March 31 edition of The Gazette, following a 5-4 loss to Washington-Lee. "We've got to hit. If we can't hit, I don't care how good our pitching is because our defense isn't perfect."
One month later, the West Potomac bats have come alive and Sullivan is in a good mood.
Facing Woodson with sole possession of fourth place in Conference 7 up for grabs, the Wolverines pounded nine extra-base hits during a 7-2 victory at West Potomac High School.
The Wolverines improved to 9-7 overall and 6-4 in the conference. Annandale, West Springfield and Lake Braddock are tied atop the standings at 8-2.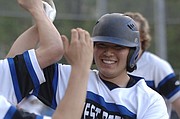 The Wolverines took control with four runs in the bottom of the third inning.
Luke Belanger, Patrick Aitken and Jamie Sara produced back-to-back-to-back doubles to start the frame. Two batters later, Daniel Jimenez hit a solo home run, giving West Potomac a 5-1 advantage.
The Wolverines finished with seven doubles, two home runs and 14 total hits.
"Lately, they've been coming around," Sullivan said. "We've been working on them and working on them and working on them and they're listening. They're cutting down on their home run swings and they're actually hitting some home runs by cutting down. It takes a while to get them to believe that: hit it hard, don't try to swing for a home run. ... We're getting contributions form everybody and it's really fun. This has been a lot of fun."
Aitken went 3-for-3 with a trio of doubles and made a fantastic diving catch in left field to end the top of the third inning.
"We were just letting it rip," Aitken said.
Center fielder Sara was 2-for-3 at the plate with a pair of doubles and two RBIs.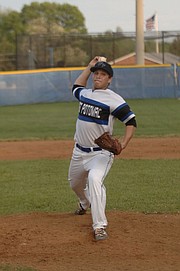 "It's a great feeling," Sara said. "I think we're finally coming together as a team, offensively. We've struggled ... but I think we've got a solid lineup and we're really going to compete in the second half of the [conference schedule]."
Senior pitcher Brandon Floyd earned the win on the mound, allowing two runs on four hits in seven innings. At the plate, he went 1-for-3 with a solo home run.
"When you have [an opposing] pitcher throwing just fastballs and we start hitting them, everyone just gets that energy that they can hit it, too," Floyd said. "They just go up there and want to be a part of that team of just getting on [base] and that's how it works. It's confidence."
Belanger went 2-for-4 with a double.
Last season, West Potomac won its first six conference games and was 7-1 after beating West Springfield. The Wolverines finished 8-4, however, and lost to South County in the opening round of the conference tournament.
This year, West Potomac has won seven of its last 10 games, including four of its last six conference contests.
"Last year, I think we peaked too early and then went in the tank," Sullivan said. "This year, I'm hopeful that it's the other way around."
The Wolverines will travel to face Lake Braddock at 6:30 p.m. on Friday, April 29 and will host Mount Vernon at 6:30 p.m. on Tuesday, May 3.