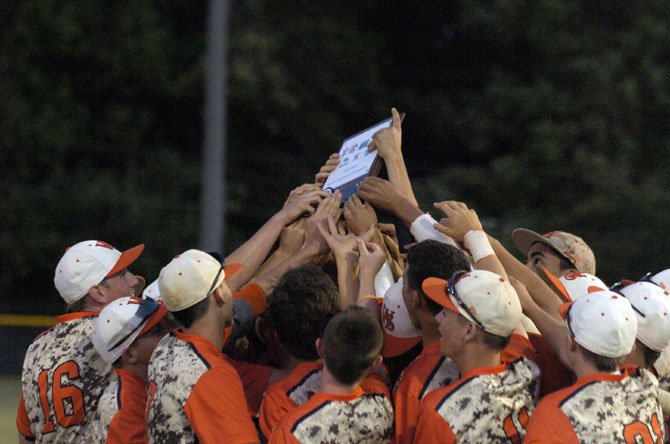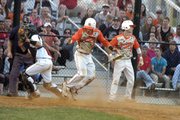 West Springfield senior Matt Meinhofer looked over at head coach Jason Olms, who returned a nod of acknowledgement. West Potomac pitcher Michael Barnes had been using a slow windup and the Spartan duo saw an opportunity to capitalize.
Meinhofer, who reached base via bunt single and was now at third, took a lead and broke toward the plate. The all-conference catcher arrived safely with a successful steal of home, extending West Springfield's lead to five runs in the bottom of the sixth inning while tying the program's single-season record for stolen bases (25) in the process.
The West Springfield Spartans defeated the West Potomac Wolverines 8-5 on Friday night in the Conference 7 baseball tournament championship game at Tugwell Yards. In a meeting of the conference's top two seeds, No. 1 West Springfield spent the evening making things happen while No. 2 West Potomac suffered through mental lapses.
The Spartans bunted runners over. Their pitchers worked out of jams. Meinhofer stole home.
Meanwhile, two Wolverine base runners got picked off and another ran into a tag for the third out of an inning. An infielder forgot to cover a base, turning a West Springfield sacrifice bunt attempt into a hit. West Potomac pitchers hit four Spartan batters.
The result was a West Springfield celebratory dog pile near the mound and the program's first conference/district championship since 2009. The Spartans won a state title in 2010 and a region championship in 2012.
"In our locker room, we believed in each other and we knew we had a pretty good squad and we knew we had a lot of talent. We just had to put it all together and go out and compete."

--- West Springfield baseball coach Jason Olms
"In our locker room, we believed in each other and we knew we had a pretty good squad and we knew we had a lot of talent," Olms said. "We just had to put it all together and go out and compete."
The victory was also the next step in redemption for a decorated program that finished the 2013 season on a sour note. Last season, the Spartans failed to qualify for regionals after losing to Lee, a program that has struggled in recent years, 5-4 in the opening round of the Patriot District tournament. West Springfield finished the 2013 campaign with a 9-12 record.
"It definitely weighs a lot," Meinhofer said of last year's season-ending loss. "It was the first time, I think, in 30-something years we didn't make it to the region tournament. We definitely had that in our minds."
After earning the top seed and receiving a first-round bye in the 2014 Conference 7 tournament, West Springfield's pitchers were well rested for the championship game. Staff ace and all-conference performer Brandon Padgett, who pitched three innings in the Spartans' semifinal victory over Annandale on Wednesday, got the start against West Potomac and earned the win. Padgett allowed one run and six hits over five innings. He walked two, hit one batter and struck out four.
"Brandon did an outstanding job just throwing strikes [and] pitching through some tough spots," Olms said. "When he's on the mound, I think we're comfortable [and] relaxed."
Padgett said having a pitching-to-contact approach requires trust in one's teammates.
"[It's about] just relying on everyone else, realizing we're a team, just [coming] together and then just [relaxing]," Padgett said. "That's the biggest thing: just have fun. That's what our coaches have been preaching to us this whole year: just have fun out there and don't make it like last year, because last year was so stressful."
While the Spartans had their pick of who would pitch Friday, the Wolverines didn't have the same luxury. Due to inning restrictions, senior Billy Lescher was unavailable and all-conference performer Barnes was limited, meaning No. 3 starter Jamie Sara got the call. The sophomore right-hander gave up five runs --- four earned --- in the first inning and West Potomac trailed the rest of the way. Sara suffered the loss, allowing six runs --- five earned --- and seven hits in 3-plus innings. He hit three batters and walked one.
"When [Barnes or Lescher are] starting, they're a different team," West Potomac head coach Jim Sullivan said. "Jamie pitched a good game, he was just a little bit nervous in the first --- not surprising for a sophomore pitching in the district final. He did OK."
Sara, an all-conference selection at third base, hit a two-run home run in the seventh inning, but it was too little, too late.
West Potomac right fielder Rocky Iboleon went 2-for-4 with a solo home run. Freshman shortstop Luke Belanger finished 1-for-3 with a two-run triple.
West Springfield right fielder Joseph Basse went 2-for-3 with three RBIs. All-conference designated hitter Blake Bird was 3-for-4 with a double.
Meinhofer, Timothy Yonkers, Louis Perez, Adham Nabhan, and Thomas Meiller each had a hit for the Spartans.
"We have played three bad games this year --- [all against West Springfield]," Sullivan said. "As long as we're not playing them, we seem to play a good game. Right now, they've got our number for some reason."
West Springfield (16-6) will host Osbourn in the first round of the 6A North region tournament on Friday, May 30. West Potomac (14-8) will host Patriot.