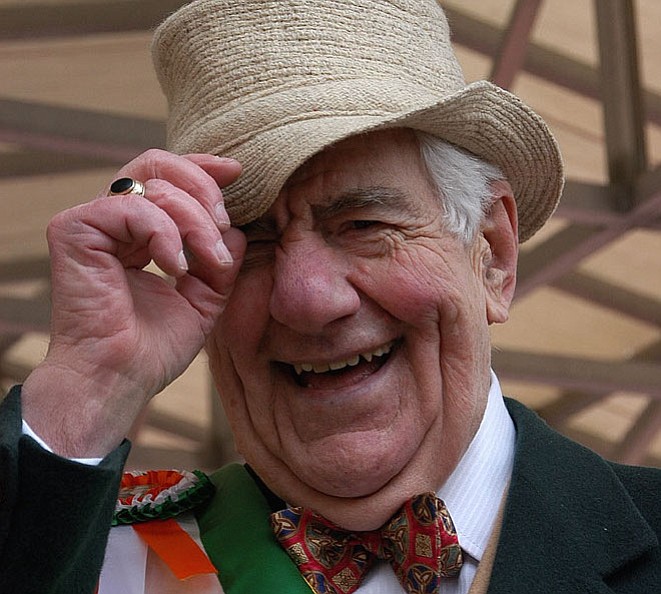 To anyone appearing in his courtroom, his name invoked fear. But those who knew Judge Daniel O'Flaherty, knew him as a kind and quiet man, a proud Irishman devoted to his family and the City of Alexandria.
"He was one of a kind," said Pat Troy of the man who coined the city's St. Patrick's Day Parade committee name "Ballyshaners," the Gaelic word for Old Towners. "He was so genuine in everything he did. He gave so much to this city and has left a legacy that will never be forgotten. He truly was the original Ballyshaner."
O'Flaherty served for 25 years on the St. Patrick's Day Fun Dog Show and is credited with creating the Rosemont July 4th celebration.
On March 26, the respected jurist with the unending supply of bow ties died peacefully at his home. He was 89 years old.
Daniel Fairfax O'Flaherty was born June 26, 1926, the only son of Daniel O'Flaherty and Isabel Boyer O'Flaherty. A lifelong Alexandrian, he sold shoes at Hayman's on King Street, helped build homes in Fairlington and worked at the Torpedo Factory building torpedoes – all before graduating from George Washington High School at the age of 16.
After being referred to in newspaper articles as an "Ingenious Virginia Youth Inventor" for a contraption similar to today's clock radio, O'Flaherty attended Roanoke College. His education was interrupted by World War II, where he served in the Army Air Corps and completed 30 missions in the Europe Theatre.
Following graduation from George Washington University Law School in 1949, he opened his law office. In 1953, he ran for City Council, becoming one of its youngest elected members at the age of 27.
During this time, he met Lulie Theresa "Resa" Hutt, the woman who would be by his side for more than 64 years. The two were married on July 15, 1950.
"After their first date, Daddy mailed Mom this tear apart postcard to ask her for a second date," said Lucelle O'Flaherty. "It had a self-addressed stamped postcard with a box for her to check OK' if she agreed. She still has it to this day."
O'Flaherty was appointed to the General District Court in 1956 where he retired as Chief Judge in 1998. Following in his father's footsteps, O'Flaherty served as a Trustee and Lay Leader of Trinity United Methodist Church where he was a member since 1942.
"Dad loved the free 'get to know your neighbor' car washes the church would hold," Lucelle O'Flaherty said. "He could always be seen out there getting wet and washing cars."
O'Flaherty served as president of the Rosemont Citizens Association in 1967 when the Maury School 4th of July celebration began. He also served as president of the Potomac Lung Association, Maury School PTA, AHEPA and Trinity United Methodist Church Men's Club.
He served as vice chairman of Alexandria Democratic Committee, Alternate Delegate to Democratic National Committee and member of the board of directors of the Potomac Lung Association.
"I think people would be surprised at how much Daddy quietly did in the community," Lucelle O'Flaherty said. "Trinity helps feed the homeless at Christ House and Daddy and I would team up with other members and friends to help prepare the meal for the homeless several times a year. He would also ring the bell for the Salvation Army in front of the courthouse as part of the Alexandria Bar Association team. He always had a smile on his face and everybody knew him."
O'Flaherty's love of Ireland, which included many visits, sparked his interest in his Irish Heritage. In 1999, he served as the Grand Marshal of The St. Patrick's Day parade and proudly attended this year's Grand Marshal dinner on March 6.
"I knew him for 40 years," Troy said. "He was one of my first customers and came in often for the potato and leek soup. But I always called him Judge O'Flaherty, never Dan. I had too much respect for him."
O'Flaherty is survived by his wife Resa and daughters Susan O'Flaherty Griffith (Paul) and Lucelle O'Flaherty. He was predeceased by a younger sister, Barbara Jean O'Flaherty Camp. His son, Danny, passed away earlier this year.
"He was a quiet man and never sought any praise," said Lucelle O'Flaherty. "One of his favorite sayings was 'You can never build yourself up by tearing others down.' That is how he lived his life and how he would want everyone to live and remember him."
A celebration of life service was held March 29 at Trinity United Methodist Church with interment at St. Paul's Episcopal Church in Montross, Va. In lieu of flowers, memorial gifts may be made to Trinity United Methodist Church, 2911 Cameron Mills Road, Alexandria, Va. 22302.