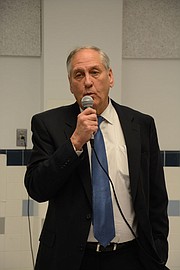 Sen. Dave Marsden (D-37) announced his intent to continue as a Virginia state senator in a March 26 statement.
Marsden, a Burke resident and 1966 graduate of W.T. Woodson High School, has served in the Senate since first being chosen in a 2010 special election. He previously served five years in the Virginia House of Delegates. Over the 10 years, he's had 56 pieces of legislation pass, the most recent of which include bills for requirements for Uber drivers, decriminalizing possession of marijuana extracts being used for medical treatment and ethics legislation.
The senator joins a growing number of politicians announcing their candidacy in a year when every Virginia Senate seat is up for election.
"It is no exaggeration to say that the winner of these elections will direct Virginia's agenda over the next four years," Marsden said in the statement. "If Republicans win, they will continue to erode a woman's right to make her own healthcare choices, continue to fight against LGBT equality and do nothing about the growing problem of income inequality. If Democrats are in control, we will work with Governor McAuliffe to create a new Virginia economy that works for everyone, expand Medicaid to provide affordable healthcare to the working poor, fight for equal rights and implement renewable energy standards that will protect our environment."
For more information about Sen. Marsden, visit marsdenforsenate.wix.com.