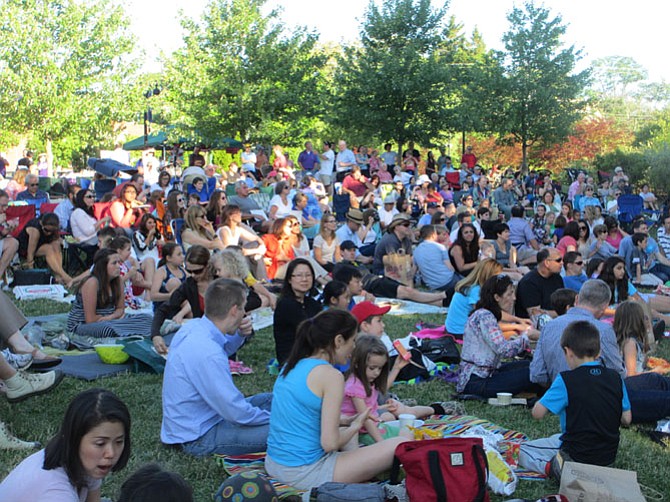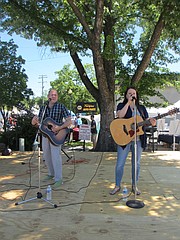 Vienna Idol Rules
Minimum age is 12. Maximum age is 100.
Entry fee $20, to be donated to the Khristin Kyllo Memorial Fund and S.U.D.E.P, payable in advance or at the time of audition.
Entrants must submit a registration form and accompanying photo (preferably a "headshot") and a short bio.
Caffe Amouri will supply sound amplification equipment. Mics, speakers, and a mixer will be on-hand for acts. All instruments to be provided by participants.
Qualifying rounds will be held at Caffe Amouri and Whole Foods Vienna.
The names of musicians who advance in Vienna Idol will be announced the week of May 18, prior to the semi-final rounds on Memorial Day weekend during ViVa! Vienna!
Contestants do not need to be a Town of Vienna resident to participate.
Entrants agree to be available for the semi-final competition to be held over the Memorial Day Weekend at the annual ViVa! Vienna! festival, and for the finals to be held at a Concert on the Green on Friday, June 5, beginning at 6 p.m. Rain date for the finale is Saturday, June 6.
Growing bigger every year with stakes growing higher, as well, Vienna Idol kicked off its qualifying rounds – auditions – in early April. Local musical talent is vying for a $1,000 grand prize in 2015.
Vienna Idol, a music competition benefiting the Khristin Kyllo "Dream Big" Memorial Fund, and S.U.D.E.P. [Sudden Unexpected Death in Epilepsy] research runs auditions semi-weekly at either Caffe Amouri or Whole Foods Vienna. The competition climaxes with four finalists on June 5 when fans vote for their favorite "idol" with dollars. The contestant who garners the most donations wins.
"We do it because it's a community event that can also do good for other people," said Vienna Idol founder and producer, Michael Amouri of Caffe Amouri.
MICHAEL AMOURI, OWNER OF CAFFE AMOURI, put together the idea to support the Khristin Kyllo memorial fund with a talent competition. Khristin died unexpectedly of complications from epilepsy at the end of her first semester at Princeton University in 2010. A James Madison High School graduate in 2010, she was a softball stand-out. Amouri coached her in basketball at Madison.
Amouri first conceived of the talent competition as a community event to promote local talent, but, then, he thought of his former player and her parents' fundraiser, Kyllopalooza. It seemed like a natural partnership.
"You come to support local musicians and support a good cause," Amouri said.
On April 15, Whole Foods Vienna donated five percent of its day's proceeds to Vienna Idol. Caffe Amouri, Whole Foods Vienna, and Kiln and Company are Vienna Idol's primary sponsors.
Contestants who advance qualify for the semi-final competition held over the Memorial Day weekend at the ViVa! Vienna! festival. Finals take place at a Concert on the Green on Friday, June 5 beginning at 6p.m. Rain date for the finale is Saturday, June 6.
The first qualifying event was April 14 at Caffe Amouri. Qualifying events – auditions – are held throughout April and May. At each qualifying event, judges active in the community evaluate the performances and vote for those who will advance to the semi-finals. Contestants are judged on overall talent, originality and stage presence.
First-place winner gets $1,000; second place gets $500, and third place gets $250.
THE KHRISTIN KYLLO "DREAM BIG" Memorial Fund was founded in 2011 by Khristin's parents, Tom and Julie Kyllo. The fund awards scholarships to local high school students who reflect Khristin's outlook and character. Funds that remain after scholarship is awarded go to S.U.D.E.P (Sudden Unexpected Death in Epilepsy) research. Last year, the Fund raised $15,000. It awarded two scholarships, one at $5,000, the second at $1,500. A percentage of the funds goes to S.U.D.E.P. research.
"We want people to come to Vienna Idol because it's a good, entertaining show that also raises money," said Tom Kyllo. "We don't feel comfortable asking people for money for the fund, but, this show is a good value for your donation."
CONTESTANTS MAY REGISTER online at www.viennaidol.org or at Caffe Amouri on Church Street. Go to www.viennaidol.org/ for audition details, dates, and locations.
To learn about or to donate to the Khristin Kyllo Memorial Fund, visit khristinkyllomemorialfund.org.