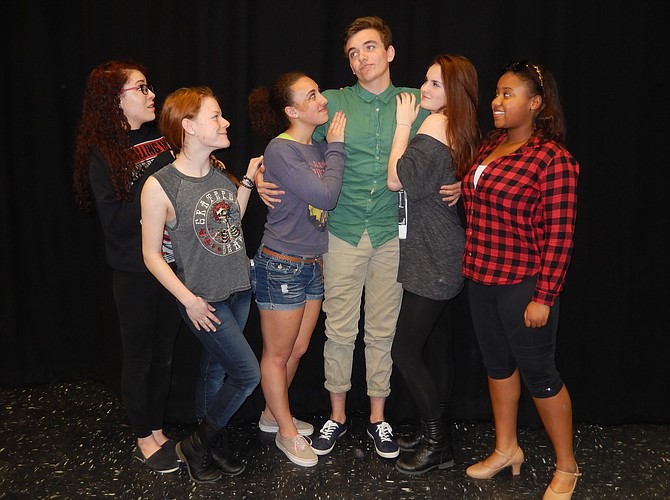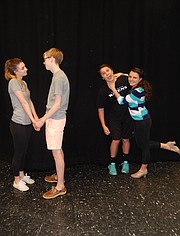 Featuring a cast and crew of 60 and a 25-piece orchestra, Westfield High presents the musical comedy, "Pajama Game." It's the school's Cappies show and the students have been rehearsing since March.
"Pajama Game" takes the stage Friday-Saturday, May 1-2 and 8-9, at 7:30 p.m., and Sunday, May 3, at 2 p.m. Tickets are $12 at the door, and $10 for students with IDs and advance purchases at www.westfieldtheatreboosters.com or www.whspjgame.weebly.com.
The story takes places in Cedar Rapids, Iowa, in the late 1950s-early '60s. There's unrest in the Sleep Tite pajama factory between labor and management over pay raises. And romantic relationships there are affected by the controversy.
"I have great comic actors and wonderful singers and dancers," said Director Susie Pike. "They're really capturing the small-town fun and spirit of the working class. The audience will like the happiness, lightness and almost innocence of working America back then and how the factory workers become a family. It's a slice of life in which the actors come off not as caricatures, but as real people."
Junior Daniel Williams designed the sets showing scenes inside the factory, at an office, a park and in a vintage kitchen. "A lot of research went into making the sets as realistic as possible," said Pike.
The student choreographers are Meredith Mehegan and Ola Pozor. And Charlie Parsons plus sisters Porsche and Wednesday Amaya designed the costumes, including vintage pajamas and bright, colorful dresses with big skirts.
Leading the labor union's grievance committee is factory worker Babe Williams, played by senior Emily Cervarich. "She's a strong, independent woman who knows what she wants and goes after it," said Cervarich. "She doesn't have time for relationships. She was raised without a mother by her father to be hardworking, so she's very business-oriented."
Cervarich enjoys her role because "Babe's like my personality; she puts on a brave front and doesn't let anyone break it. Then Sid [the new factory superintendent] comes along and gets to know her more vulnerable side." Her favorite number is her solo, "Hey, There," since it's "the first song where Babe really lets her guard down. It's very emotional for her to admit she's let someone in."
Cervarich says the audience will also like the group numbers. "It's an ensemble-driven show, so there's lots of energy onstage," she said. "And they'll also like watching the girls twirling around in their big skirts."
Portraying Sid is junior Andrew Sharpe. "He's over-confident and full of himself," said Sharpe. "He's good-looking and all the girls are in love with him. But he eventually falls in love with Babe and becomes more tender. He struggles between work and pleasure and figuring out what's right in the work environment."
Sharpe likes playing him because Sid is the opposite of his own personality. And he loves his character's songs, especially "Small Talk," during which he acts while singing. In it, Sid's tired of making small talk with Babe and not advancing their relationship.
Although this play's a classic, Sharpe said it's not well-known by today's audiences, so it'll be new to them. "We go all out with our sets, and they'll get immersed in the 1960s," he said. "So it'll be nostalgic for the adults and fun for teens to see what a different time period was like."
Junior Shaina Greenberg plays Gladys, a secretary for one of the factory managers. "She always knows what's going on in the office and has a lot of responsibilities," said Greenberg. "She's fun-loving and an office flirt, but has an ongoing relationship with a factory worker named Hines."
It's a fun part, said Greenberg, "because Gladys is all over the place, and I usually play serious roles. And she's in a lot of the dance numbers. My favorite is 'Steam Heat,' done in Bob Fosse style. It's different from the other numbers because of the choreography, and it's the only one that isn't fast and upbeat."
As for the audience, she said, "There's something in this show for everybody. Older adults will appreciate the show's classic style and others will enjoy the bright colors, cheerful numbers and happy storyline."
Portraying Hines is junior Keegan Garant. "Hines is also the narrator who breaks the fourth wall by talking directly to the audience," said Garant. "He's Gladys's love interest and the goofy character who ties the show together. It's so much fun because I get to be crazy with him while also giving Hines a dramatic arc and showing what a loving person he is."
Garant likes the song, "Never Be Jealous Again," which he sings and dances with Jessi Swanson, who plays Mabel, an older wiser secretary who gives him dating advice. "It really shows a lot about Hines's character — both his affectionate nature and his silliness," said Garant.
He said the audience will enjoy the interactions between all the characters because "each one brings something else to the table, so they're all really well-developed. This show also has strong singers and great dance numbers so, overall, it'll be really entertaining and fun for the whole family."