Following Monday's weather-­related postponement of their scheduled contest against West Potomac, members of the Mount Vernon boys' lacrosse team took the field for Tuesday's matchup with T.C. Williams having gone 11 days since their last game.
"It kind of put us back almost into hibernation waiting on tonight," Mount Vernon senior Louis Martin said, "even though knowing it was going to be a big game like this, we couldn't start off fast."
While the Majors were hibernating, the Titans scored the game's first five goals and led 7-­1 early in the second quarter.
But once Mount Vernon awoke from its slumber, the Majors staged a dramatic comeback and continued the successful start to their 2015 season.
Greg Smith's goal with 17 seconds remaining in the fourth quarter gave the Majors their first lead of the night and Mount Vernon held on for a 12-­11 victory over the Titans on April 21 at T.C. Williams High School's Minnie Howard campus.
Mount Vernon, a member of 5A's Conference 13, improved to 5-­1 with its first win over a 6A opponent this season.
"Every game that we play, we're always getting beat first," said first-­year Mount Vernon head coach Dan Convery, who coached the junior varsity for eight seasons. "We're used to coming from behind. [Seven] goals to one is a tough comeback, but the guys kept it together, kept their composure and never gave up.

"What a great win."
Mount Vernon tied the score five times in the second half but didn't take the lead until Smith's goal in the final minute. Martin assisted Smith's game-winner.
Smith and Martin each scored five goals.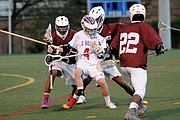 "We've been playing together since we were freshmen," Smith said. "We know where we're going to be. Everybody on the field knows what's happening. It wasn't a designed play, we just do it in practice [and] we do it in a game."
Smith scored two goals in the second quarter and three in the fourth quarter.
"Greg is great on the crease," Convery said. "He's got that quick stick and he knows what he's doing."
While Martin assisted the game-­winning goal, it was the senior's play in the first half that helped the Majors climb out of an early hole.
Martin scored the Majors' first goal late in the opening quarter, snapping a 5-­0 Titan run. He scored three goals in the second quarter, helping Mount Vernon cut the T.C. Williams lead to 7­-6 at halftime.
Martin's fifth goal tied the score at 11 with 2:08 remaining in the fourth quarter.
"Louis is definitely one of my favorite players that I've ever coached," Convery said. "Every team knows who he is and how to stop him, and they can't stop him."
Ricky Dobson and David Gibbs each scored one goal for Mount Vernon.
"I've been looking forward to this game for the whole season," Smith said. "... We know some of the [T.C. Williams] players and on Twitter they talk, we talk, so actually beating them and making them stop talking, it means a lot."
T.C. Williams (3-­7) entered the contest having won back­-to-­back games against Bishop Ireton and Stuart. The Titans came out strong and led 7-­1 after Chase Larsen's goal with 10:36 remaining in the second quarter, but things started to unravel for the home team.
"[We] lost momentum, and we started getting down on ourselves," T.C. Williams senior Reece Belcher said. "... The last two games were pretty close and we had won them, so we were kind of coming into this game thinking we could really take it to them and we didn't play up to our potential."
Belcher, who will play college lacrosse at Syracuse, led the Titans with four goals.
Senior attackmen Adin Mengel scored three goals for T.C. Williams.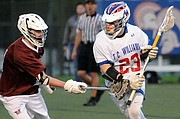 "[Mengel] provides a lot of stability on the attack end, so we can possess the ball," T.C. Williams head coach Mike Mulherin said. "I felt like they played pretty aggressive against him tonight and he had a bunch of pipe shots that didn't go our way."
Senior midfielders Remy Johnson and Mohamed Khaled and sophomore midfielder Samuel Zang each scored a goal for the Titans.
Mount Vernon will travel to face West Potomac at 7:15 p.m. tonight. The Majors will host Hayfield at 7:15 p.m. on Friday, April 24.
Convery said "I don't see us getting stopped in the conference." Martin is confident, as well.
"I feel like, as a team, we're capable [of winning] the big one," Martin said. "That's just a matter of us putting in the hard work, us putting in the time."
T.C. Williams will travel to face West Springfield at 7:15 p.m. on Friday, April 24. The Titans are looking to qualify for the regional tournament for the first time since 2011.