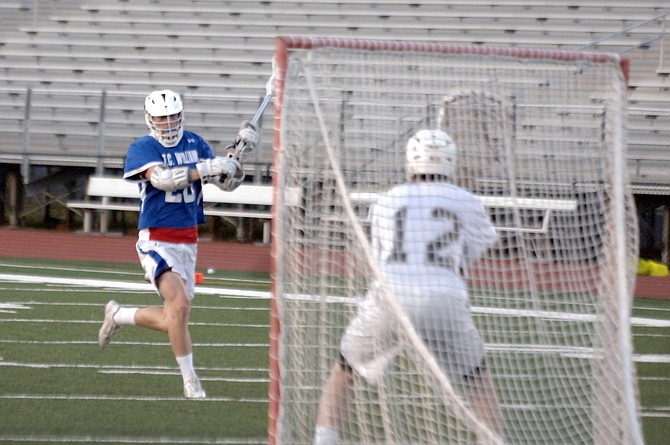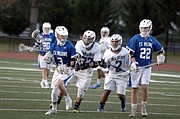 As senior members of the Mount Vernon boys' lacrosse team were honored prior to Tuesday's game against T.C. Williams, some of the Majors' favorite memories were shared with those in attendance.
On more than one occasion, a player's memorable moment was last year's 12-11 victory over the Titans, during which the Majors overcame a 7-1 deficit at Minnie Howard. The victory was part of a 10-win season for Mount Vernon that included a trip to the Conference 13 championship game.
On this night, however, it would be T.C. Williams overcoming a deficit to win on its opponent's home field.
The Titans outscored the Majors 4-0 during the final 5 minutes, 29 seconds and pulled out an 8-5 victory during the Majors' senior night at Mount Vernon High School.
The win improved T.C. Williams' record to 6-3 overall and 4-2 in Conference 7. The Titans are assured of a first-round home game in the conference tournament for the first time since 2007.
"I pointed it out to them before the game that they should take notice of when a team says their lasting memory is a come-from-behind win last year against you," T.C. Williams head coach Mike Mulherin said. "[I told them] 'You need to pay them back' and they did."
The Majors entered the fourth quarter with a 5-4 advantage but failed to add to their lead. With 7:29 remaining, a Mount Vernon player received a two-minute, non-releasable penalty for slashing, which opened the door for T.C. Williams.
Playing a man up, TC junior midfielder Sammy Zang's goal with 6:56 on the clock tied the score at 5 and ended a Titan scoreless drought of nearly 27 minutes.
Near the end of TC's man advantage, senior Dilllon Smith assisted senior Billy Donohue with what proved to be the game­winning goal with 5:29 remaining.
"I thought it would get them energized because they're pretty confident in those situations when they're a man up," Mulherin said. "We hadn't had a penalty really all night long to capitalize on, so [it was] a huge momentum swing when we got that second goal from Billy. Once we got that and recaptured the lead, you could see the momentum coming our way."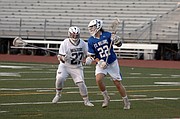 Four days earlier, the Titans took advantage of a non-releasable penalty during a 16-4 win over Forest Park.
"When you're man-up, it's nothing else but goals," Zang said. "You've got to score every single time. That's what we want to do. We don't accept anything less."
Mount Vernon head coach Dan Convery didn't agree with the penalty.
"That was the biggest swing of the game," Convery said. "That's what cost us the game. ... It shouldn't be a two-minute, non-releasable call. He didn't swing it like a baseball bat, he didn't come down hard on it, it should have just been a one-minute, releasable penalty. ... [It was a] horrible call."
Zang led T.C. Williams with three goals. Sophomore attackman Brody Dickson finished with two goals, and senior midfielder Scott Passalugo, senior attackman Phillip Reilly and Donohue each had one.
Junior goalie Pat Clark had seven saves.
T.C. Williams has five regular season games remaining. The Titans haven't had a winning season since 2007 and haven't qualified for the region tournament since 2011.
Mulherin said this year's team has improved its skill level through offseason work.
"[There is a] reputation of TC being a physical team and just a bunch of guys that are out there playing tough lacrosse," Mulherin said. "We wanted to be a skill team and I think they've shown that this year and the win-loss record has kind of demonstrated it, as well."
Donohue said the Titans have a different attitude this season.
"In past years, it's really been kind of a down-on-you team," Donohue said. "When we make mistakes we kind of dog each other on it. This year, we're definitely doing different things with that. We've got young leadership with Sammy and then the rest are [senior] captains. ... We're over .500 because we're not yelling at each other. ... We're encouraging rather than scolding."
Zang, Reilly, Passalugo, Donohue and Smith are TC captains.
The loss dropped Mount Vernon's record to 1-8 overall and 1-5 in the conference. It's the Majors' first season competing in Conference 7.
Junior KeShawn Downing led the Majors with three goals during Tuesday's loss to T.C. Williams.
"I think he played great," Convery said. "I think he's been having a great year. [He is a] second-year player. [I'm] definitely looking forward to him next year."
Junior David Gibbs and senior Rick Dobson each scored one goal for the Majors.
Senior goalkeeper Trey Fulmer had 12 saves for the Majors.
T.C. Williams will travel to take on Potomac Falls at 7:15 p.m. on Thursday, April 21. Mount Vernon will travel to face Annandale at 7:15 p.m. on Friday, April 29.