In today's world, many young people spend so much time on their smartphones that they miss chances to just go out and play. But Fairfax High's production of "Big: The Musical" reminds them and others to sometimes be kids again and have fun doing so.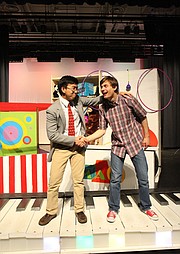 Featuring a cast and crew of 75, plus a 20-piece pit orchestra, it's the school's Cappies show. They've rehearsed since February, and Director Erich DiCenzo says things are going great.
"We've invited eight, elementary-school kids from five Fairfax schools to participate in the production," he said. "And they've quickly become a working family with everyone else."
It's a musical adaptation of the popular, Tom Hanks film. On the carnival machine Zoltar, Josh Baskin, 13, makes a wish to be big – and, overnight, he becomes adult-sized and his whole world changes. "Choral, band and theater students, and even athletes, are in this show," said DiCenzo. "And we're retaining all the favorite moments from the film – from the baby corn to the big piano."
Scenes take place in Josh's New Jersey neighborhood, the carnival, a toy store, Josh's New York apartment and the offices where he works. The set boasts two, two-story houses, a turntable clock tower, two trampolines, a tire swing and the movie's iconic 17.5-foot-long, fully functional, floor piano.
"The costumes are also exciting because every actor represents a famous toy of the late '80s," said DiCenzo. "So the audience will be able to see their own, favorite, childhood toys come to life. And we've launched a huge campaign to get Tom Hanks to come to the play; we encourage everyone reading this story to re-tweet our message, 'Come see #FHSBIG.'"
He said the best thing about the show is that "it reminds people to be a kid again, don't take life so seriously and get swept away by magic. I'm proud of the students because they're challenging themselves with more difficult choreography and tech projects, and they're striving to make every production better than the last. People can know that, no matter what we're performing, it'll be well-worth seeing."
FRESHMAN Thomas Iodice plays Josh as a child and senior Doug Klain portrays him as a grownup. "Josh is 33 with a 13-year-old's mind," said Klain. "He changes over the course of the show but, at his core, he's an alive spirit with a fire inside. Adults tend to lose that as they grow up, so the contrast between Josh and other adults is really obvious."
It's a difficult role for him, explained Klain, because "I've always played the old, angry man and the boss. And I have a deep voice but, to play Josh, I have to talk with a childlike voice with different inflections. I also had to lose my inhibitions to move and act like a child playing with toys."
But, he added, "I like how much fun Josh has in every moment. No matter what he's doing, he always enjoys himself; and even when he's sad, he's hopeful and optimistic. My favorite number is 'Fun,' the F.A.O. Schwartz toy-store scene where Josh and his boss, MacMillan [played by Zion Jang], dance on the piano. It's 'Big's' most iconic scene and it's so enjoyable getting to re-create it."
Klain said audience members won't be able to leave without smiles on their faces. "This show will make people feel good and be happy," he said. "It's nice to see a play and just have a good time."
Junior Molly Berry plays toy-store executive Susan Lawrence. "She's hardworking and not very fun-loving," said Berry. "She's powerful and intelligent and in an unhappy relationship. But Josh teaches her how to laugh, dance and have fun again. I like playing her because she also has a vulnerable side and I get to show those two sides of her personality."
Berry's favorite song is "My Secretary's in Love." In it, she said, "Susan's talking about how angry she is because her secretary's busy planning her wedding, instead of working. I get to scream and act crazy while singing it." She said people will really like the set because "it's amazing; our tech team is working incredibly hard. And the show's energy and youthfulness will make it entertaining for the audience."
Josh's best friend, Billy, is played by junior Matthew Velasco. "Josh has been sheltered, but Billy's a spastic rule-breaker and almost Josh's exact opposite," said Velasco. "Billy's more streetwise and brings Josh out of his shell, while Josh keeps Billy from going over the edge."
Loving his role, Velasco said, "I'm like a kid in real life, so I feel like I'm playing myself. A lot of the jokes involve Billy doing something silly, and I think, 'That's something I'd do.'" Velasco especially likes the song, "Coffee, Black," because "it's energetic and I like its melodies and harmonies. And Doug and Molly really mesh together in that scene."
All in all, he said, "It's a fun show and will take the audience through so many emotions. They'll be sobbing, one minute, and laughing, the next; even the cast members' smallest gestures are powerful. It's a feel-good musical that people will really connect with."
SENIOR Caroline Silas portrays Josh's mom. "She's an over-the-top character," said Silas. "Around the neighborhood, she's a 'Stepford' housewife; but she goes into crazy-mom mode through the story. She's emotional and undergoes a complete change after her child leaves, so she's a dynamic character."
Silas enjoys her part because "I've had the most acting freedom with this character to take her on as my own. She's an empathetic and caring mom, and it's eye-opening to explore a situation where you lose your child and make it as realistic as possible."
Silas likes the number, "It's Time," because it's when "the big kids finally stand up for themselves. It's an upbeat, hip-hop routine that looks really polished." As for the audience, she said, "They'll like getting to experience childhood again. This show will take them back in time and will be fun for both adults and children."
THE CURTAIN RISES Friday-Saturday, May 1-2, and Thursday-Saturday, May 7, 8 and 9, at 7:30 p.m.; and Sunday, May 3, at 2:30 p.m. Tickets are $10 via www.fxplayers.org or $15 at the door. For the Sunday matinee, tickets are $5 for children 12 and under. And after the show, they can dance on the big piano, take a photo with the cast and make a wish with Zoltar.