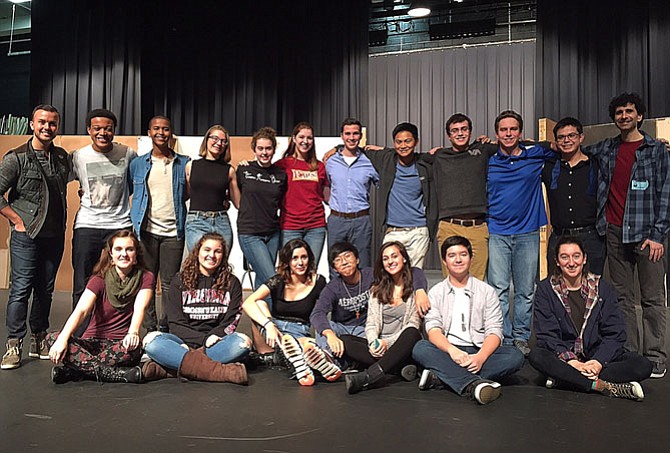 Fairfax High is the first high school to debut playwright John Cariani's play, "Love-Sick." He considers it an unromantic comedy and the darker cousin to "Almost, Maine," which he also wrote. The audience will see nine vignettes showing two people going through an important stage in their relationship.
The curtain rises Friday-Saturday, Dec. 4-5, at 7 p.m., and Sunday, Dec. 6, at 2 p.m. Tickets are $8 via www.fxplayers.org and $10 at the door. There is a cast of 18 and a creative team of 10, and the story is recommended for ages 13 and up because of the subject matter.
"What's so special about this show is that audiences will be able to take a trip down memory lane and see the stages of a relationship play out," explained director Erich DiCenzo. "They'll see both the beauty of the euphoric times, as well as how different individuals respond to the tougher times, too. Cariani shows what it is like to be in love – what happens to people after they say, 'I love you' – and he highlights this in a whimsical and comedic way."
DiCenzo said rehearsals are going well and his cast is progressing nicely. The school's Theater Department created a new motto, "Producing professional theatrical productions through unique educational experiences." And this as-yet unpublished play – which Fairfax is performing with the playwright's special permission – illustrates it.
"This is a once-in-a-lifetime opportunity," said DiCenzo. "Cariani held an all-day, private workshop here recently to work one-on-one with the cast and crew. It was breakthrough after breakthrough; the students were suddenly able to look at the script in a different way."
AND MOST SIGNIFICANTLY, said DiCenzo, "Cariani gave them permission to make their own acting choices and trust their instincts. And it was a proud moment for me to hear this Tony-nominated, Broadway star say to me how impressed he was with the level of talent and creativity of both our actors and technicians."
Senior Jonah Hurley designed the set; about 30 people worked on it, but there was a core group of six. He is the lead designer, but he incorporated suggestions from his classmates, so it was a collaborative effort.
"We're building a supercenter with different segments of a store, so it'll look like that's where the scenes are taking place," said Hurley. "But the actors will act as if they're in different rooms of a house. The play's overarching theme is supposed to be things happening in everyday life, so this set fits it and will be a place that's really familiar for the audience."
Junior Eddie Zakreski portrays Keith, a groom who gets cold feet on his wedding day. "He's obsessive, overreacts easily, gets worked up about stuff and freaks out a lot," said Zakreski. "He loves his fiancé, but isn't sure if he'll be the best husband and if this is what he wants for both of them."
Enjoying his role, he said, "It's really fun because of his character development. He's a good combination of someone both serious and comedic. And playing the stereotypical weird guy gives me the freedom to act big, do almost slapstick comedy and be funny in the way I want to be."
Zakreski said all the vignettes will leave the audience wanting more, but still enjoying the show. "Ideally, they'll be thinking about the characters after their scenes have ended and will be wondering what happens next in their lives," he said. "And Cariani's writing style does a good job of expressing human emotions in a simple, yet clear and deep, manner."
Katie Ryan, a senior, plays Jill in the scene, "Forgot," about a couple on the woman's 35th birthday. "Jill's wanted to have kids for a long time, but they've let it slip and she starts yelling at her husband about it," said Ryan. "She's a working woman, while her husband stays home and does the cooking and cleaning. She's the breadwinner and is assertive and driven."
Ryan, too, likes her part. "I've never played someone so energetic in getting her point across – even throwing chairs," she said. "And it's fun to explore why such a polite and professional person would feel the need to be so aggressive and insistent."
She said anyone who has seen "Almost, Maine" will notice similarities in "Love/Sick's" structure and character. "Women, particularly, will like how Cariani writes his female characters and portrays them as driving their scenes more than usual," said Ryan. "Everything he writes is so real and true-to-life, with natural dialogue and raw reactions to real situations, that you almost forget you're watching a play."
JUNIOR KATIE DAVIS portrays Abbie in a scene called "Where Was I?" Abbie is married to a woman named Liz and they have two children. "But Abbie's lost herself in their daily life and tries to find herself with Liz's help," said Davis. "Abbie's just a fireball – uncertain about things, but spontaneous – rushing into things without thinking them through. She's also loving to her wife and kids, But she has extreme emotions, so she also has a dark side and can be harsh with her family, as well."
Davis loves her role because of her character's extremes. "I get to scream onstage, be very dramatic and show the full range of Abbie's emotions," she said. "I admire her spontaneity and it's so much fun to embody it."
Saying there is "so much to love about this show," Davis said, "The ups and downs of life and relationships, and falling in and out of love, are relatable for everyone. Every person in the audience will either know someone like the characters or will be like them. And they'll leave the performance thinking it's amazing because it's so personal."