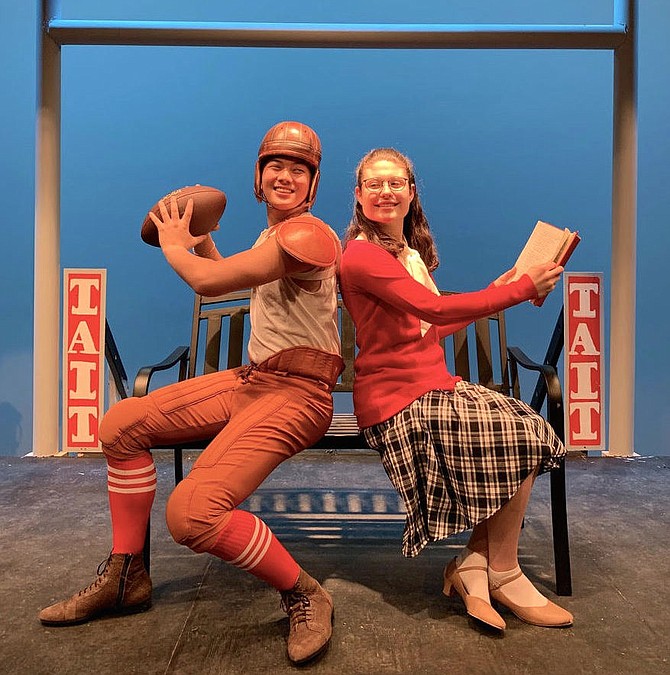 A 1920s musical comedy in a college setting, "Good News" is Fairfax High's upcoming show and Cappies entry. It will be presented over two weekends, starting April 26.
"This show was first introduced to me at my own performing-arts college, and I instantly fell in love with it," said Director Erich DiCenzo. "It's a classic, Broadway production where song, dance and humor take center stage."'
Featuring a cast and crew of 54, the story takes place at Tait College in New England. The star football player fails his astronomy test, so he gets tutored by a student named Connie. She helps him pass his test so he can play in the school's big game and, along the way, he falls in love with her.
"The cast is a special group of students who were hand-picked, since the talents needed for a show like this are heightened because of its style, comic timing and – above all else – tap dancing," said DiCenzo. "And most of these kids have owned their tap shoes less than a year, but they've quickly become young professionals, mastering intricate choreography and rhythm."
He said the audience will be surprised that, "Even if they haven't seen 'Good News' before, they'll perk up with every number. And it's because they'll recognize the songs – such as, 'Life is Just a Bowl of Cherries' and 'The Best Things in Life are Free' – but just didn't know what show they were from."
THE SCENES take place all over the campus and quad, including the college library, locker rooms, astronomy classroom and football stadium. And, said DiCenzo, "The crew has done an incredible job building a multi-level, stationary set that allows for imaginative staging and creativity."
As for the costumes, girls will be adorned in handsewn-and-designed 1920s daywear and flapper dresses, and the boys will be decked out in authentic 1920s football uniforms, complete with leather helmets.
"I'm excited to introduce a new show to our already supportive community," said DiCenzo. "And I hope they'll enjoy it as much as I did when I first worked on it in college."
Playing tutor Connie Lane is freshman Madeleine Tyler. "She's a nerdy, book-loving girl who loves astronomy," said Tyler. "And like so many other people on campus, she dreams about having someone to love her. She can have a sarcastic tone, at times, but is comedic and playful about it. She's smart and selfless, always doing things for others, and her close friend is the astronomy professor. Connie thinks she knows the type of person she wants – until she meets football star Tom Marlowe."
Tyler loves her role because "Connie's such a dreamer, and I like playing an ingenue like that," she said. "My favorite song is 'The Best Things in Life are Free,' which Tom and Connie sing together. I love the acting we do with it because they're falling in love during the song, and the music's very pretty."
The show actually contains three romantic stories; besides Tom and Connie, the other two couples are the astronomy professor and the football coach, and two students named Babe and Bobby. Tyler said the audience will enjoy watching these romances unfold. "They'll also like the array of music from slow numbers to upbeat and jazzy, 1920s style, and the fun and uplifting dances," she said.
Senior Matt Sikes portrays Marlowe. "When he meets Connie – who's also the cousin of his current girlfriend – he finds something that isn't football to fall in love with," explained Sikes. "He's pretty chill; he knows he's a good athlete, but he's modest about it. He's also a kind, friendly person who accepts everyone for who they are."
Sikes said it's a great experience playing Tom. "I'm more of a nerd, so it's enjoyable to explore something different," he said. "It's cool being the center of the college's attention because I'm normally in the background, in real life."
He especially likes the song, "Lucky in Love," which Tom and Connie sing. "It's really uptempo, and Connie and Tom start to realize they like each other," said Sikes. "But they're interrupted, and it ends with him looking back at her, trying to regain that feeling."
Sikes said people will love the show's energy. "Almost everyone's happy, and the excitement builds toward the big, football game at the end," he said. "And we play a lot of the jokes to the audience. They'll also get the 1920s references to, for example, the stock market crash and other things that happened then. They'll also love the dynamic between the couples."
PORTRAYING ASTRONOMY PROFESSOR Charlotte Kenyon is senior Marin Bronaugh. "She's Connie's mentor, is extremely intelligent and ambitious and knows what she wants," said Bronaugh. "But she also has a soft side and is ready to love someone. I enjoy playing her because a lot of what she says about women – such as women having careers and being empowered – is relevant to right now. I love that about her.
"And although she seems unapproachable, she's actually very fun," continued Bronaugh. "It just takes awhile to break through her outer shell. My favorite song is 'Cream in my Coffee,' which her love interest, Coach Johnson, sings to her. It's a tap number, upbeat and lively, and a fun-to-do, romantic, partner number."
She said the audience will love the show because "Each number tops the one before. The love stories are sweet, and the big ensemble numbers – both tap and jazz – are huge and super-fun."
Sophomore Mikhail Goldenberg plays football Coach Bill Johnson, who's determined to win the big game against Colton. "He and Professor Kenyon were in a relationship, 15 years ago, and things progress between them once they meet again," said Goldenberg. "He's a little stubborn, but a sweetheart, and always has good intentions. He comes off as a bit gruff, but he's soft inside."
Goldenberg said it's one of his favorite roles because "The coach is a mature character and gives me the opportunity to try something new. And it's fun tap dancing during 'Cream in my Coffee.'"
He also likes the opening song, 'Good News,' because "It's a flashy, tap number with all the characters in their college spirit-wear. It has both powerful and softer, impactful moments and sets the scene for the show." All in all, he added, "People will enjoy "seeing a show they haven't seen before and getting a glimpse of the 1920s jazz era."
To Go
Show times are Friday-Saturday, April 26-27, and Thursday, Friday, Saturday, May 2, 3, 4, at 7 p.m.; and Sunday, April 28, at 3 p.m. Tickets are $15 at the door or $10 via www.fxplayers.org.