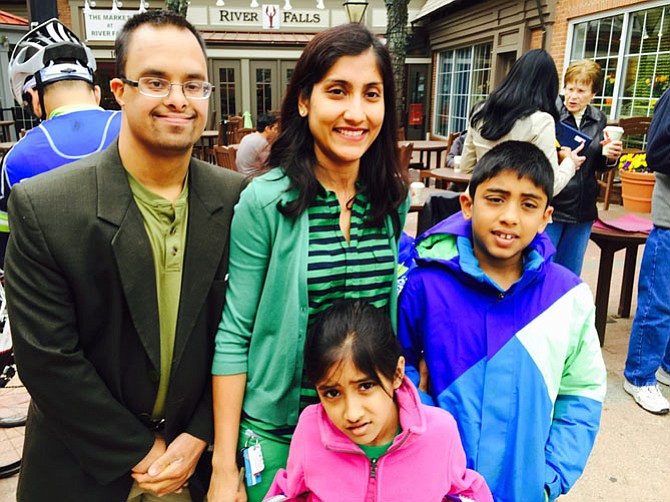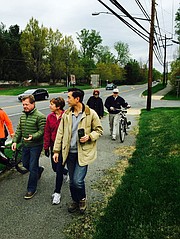 We made lives safer, said Jim Schleckser.
Keshav Gupta, 27, likes to be independent. Because of a community wide effort to build the last portion of a sidewalk on River Road around one of the most treacherous curves in the county, Gupta can now can walk to the bus stop instead of having his family drive him there.
"I take the bus to go to my work at the Hebrew Home," he said.
Amy Embrey's grandchildren like to bike to their grandparents house.
Clayton and Carol Embrey like when they do.
"The other day they showed up on their bikes. It's fun when that happens," said Clayton Embrey.
Many Potomac elementary school children can now bike or walk to school.
"It's silly. This couple hundred of feet of [missing sidewalk] stopped people from walking," said Schleckser. "My heart would be pounding when I saw people walking around that corner of the road."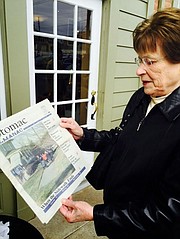 "There was no way to walk that; you'd be taking your life into your own hands," said Jim Wyble.
"You were not safe," said Hermione Fthenakis. "I did once. I almost had a heart attack."
She decided "life was too important" to walk that stretch of River Road anymore.
But on Saturday morning, she, Jim Wyble, Schleckser, and Amy Embrey walked to the village to demonstrate that walkers and bikers have a completed path they can walk from Potomac Village all the way past Swains Lock to Piney Meetinghouse Road. The missing link was along a treacherous curve between Riverwood Drive and Norton Road.
The feel good story ended with a cup of coffee, donated by Vie de France, and a history lesson in Potomac Sidewalk advocacy.
AMY EMBREY INHERITED the family passion of sidewalk advocacy from Carol Embrey who envisioned a walkable Potomac Village in 1998.
"The real person we have to thank is my mother-in-law who started this effort," said Amy Embrey.
Carol Embrey, also known as the "Sidewalk Lady" for her efforts advocating in the last decade to create sidewalks around Potomac Village, gave the history.
It started when she worked at St. Francis church but couldn't safely walk from Gary Road to get there.
"Walking in all quadrants of the Village could be dangerous," she recalled. She asked the county to extend existing sidewalks throughout the Village.
In 1997, she led a walking tour of the Village with County Executive Isiah Leggett.
"It's a mess. It's an unmitigated mess. It's a hodge podge of lack of planning — sidewalks that don't connect," Leggett said, which was quoted numerous times including in an December 2000 Almanac Embrey held up Saturday morning. "It's a dangerous situation."
Sidewalks were constructed in 2001 and 2002, and Embrey's efforts persisted until 2008 when most all of the sidewalks were completed.
Eminent domain battles curbed efforts, but the community advocates persisted.
"This project came alive because of the dedication, commitment and passion of this community," said Del. Aruna Miller.
"This is a triumph," said Schleckser.
"I am so pleased," said Amy Embrey. "It's actions that seem so basic that can be so difficult to get done."