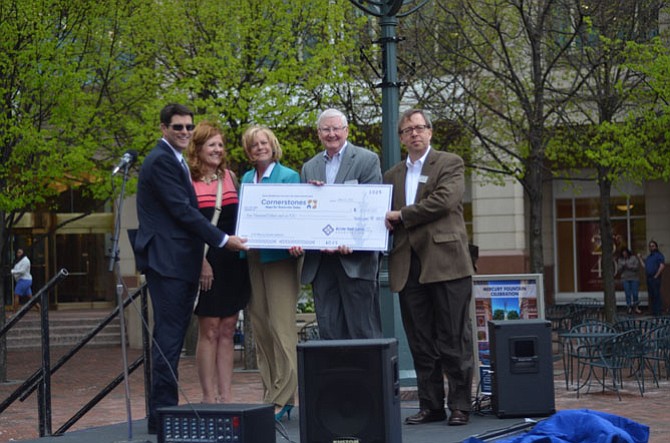 At almost 28 feet tall, the Mercury Fountain has become a symbol of Reston Town Center and a Reston landmark. Erected in 1990, the design of the fountain was chosen after a call for artists and interviews were conducted for a memorable attraction to the Town Center. Mercury was chosen to represent Reston Town Center as a symbol of communication and commerce. Designed by Brazilian-born sculptor Saint Clair Cemin, the Mercury Fountain creates powerful yet soothing sounds meant to draw patrons towards the common area.
On Wednesday, April 22, a free public celebration was held at Reston Town Center as the fountain began to flow for the first time of the season. All were welcome to enjoy live music and refreshments. The celebration was presented in partnership with Reston Community Center. Refreshments were provided by Mon Ami Gabi, with mini-burgers provided by The Counter. Live music, courtesy of Enviro Drum, was presented by the Reston Community Center. The event on Wednesday also marked Earth Day, an annual event celebrated nationwide since 1970.
Representatives from Cornerstones were on hand to accept a donation from Reston Town Center Association, the Master Association for the Reston Town Center District. All of the coins collected in the fountain in 2014 were donated to the Cornerstones.
Cornerstones, formerly Reston Interfaith, is a nonprofit organization that promotes self-sufficiency by providing support and advocacy for those in need of food, shelter, affordable housing, quality childcare, and other human services.
On Friday, April 24, Cornerstones volunteer Mike Harrison was presented with a 2015 Fairfax County Volunteer Service Award. Established in 1993, the Fairfax County Volunteer Service Awards serve a community-wide celebration of volunteerism. The awards honor individuals, groups and organizations that have given outstanding volunteer service through a broad range of activities and programs.