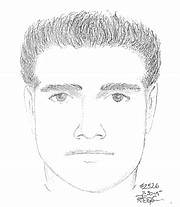 The Arlington County Police Department's Special Victims Unit is asking for the public's assistance in identifying and locating a suspect involved in the attempted rape and abduction of a female victim which occurred in the early morning hours of July 25.

The suspect forced the victim into the nearby bushes in the 1900 block of 15th Street N. at approximately 1:20 a.m. on July 25. The suspect then attempted to grab at the 25-year-old female victim's pants before she was able to fight him off. The suspect then fled the scene on foot. The victim was able to flag down a passing motorist who called 911.
The subject is described as a white Hispanic male approximately 5'6" – 5'8" tall, weighing 150-175 pounds with an athletic build. The subject was last seen wearing a white t-shirt and jeans. The victim, working with Fairfax County Police Department sketch artist, was able to provide details for the a composite sketch.
Those with information on the identity of the suspect or details surrounding this incident should contact Detective Robert Icolari of the Arlington County Police Department's Special Victim's Unit at 703-228-4240 or at ricolari@arlingtonva.us. To report information anonymously, contact the Arlington County Crime Solvers at 866.411.TIPS (8477).