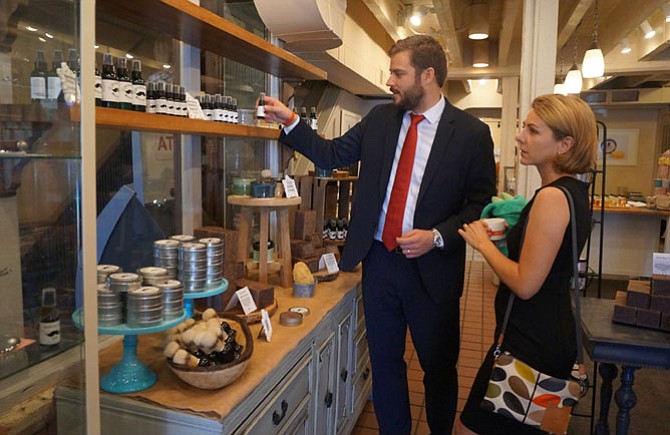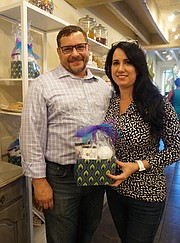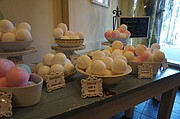 Alexandria — For Crystal and Fred Wellman, there was never any doubt that Alexandria is where they were meant to be.
"This is the kind of community we have always wanted to be a part of," said Crystal Wellman, owner of the newly opened Ladyburg, a bed and bath apothecary. "We always said if we opened another store it would be here."
Ladyburg is located at 105 S. Union St. in the space formerly occupied by Firehook Bakery. The shop specializes in handmade soaps, bath and body products.
"This is a fabulous addition to Alexandria," said Alison Rausch as she browsed the store with her husband Bill. "I've already done some shopping and the products are fantastic."
The Wellman's opened their first Ladyburg store in 2012 in Fredericksburg, where they create custom soaps and skin care products.
"We make most of our products ourselves," Crystal Wellman said. "Otherwise we get our inventory from other handcrafted artisans."
Married for 20 years, Fred Wellman is a 1987 West Point graduate and retired Army communications specialist and Crystal Wellman is an aesthetician and skin care professional.
"Our body creams all come unscented," Crystal Wellman said. "We have a blending bar so that customers can create their fragrances."
Ladyburg also carries a large selection of organic baby products as well as read-to-go gift baskets. The couple hopes to eventually host bridal showers, classes, teen parties and ladies nights out.
"We are so excited to finally be open in Alexandria," Fred Wellman said. "We wanted to be where we would feel connected to people and our Old Town location provides that. Anyone can make a product but making it an experience is what makes a difference to a small business and we feel we can do that here."
Ladyburg, 105 S. Union St., 571-551-2940 or www.ladyburg.com.