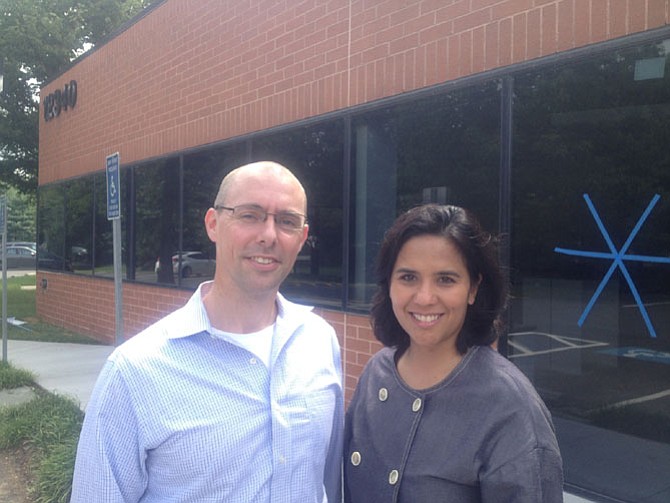 Two Thomas Jefferson High School alums, Oakton residents Juliana and Ryan Heitz, opened a teaching science center in 2010 for young learners after an unsuccessful search to find a science enrichment class for their son. Originally located in Oakton, this science, technology, engineering and math (STEM) educational organization will be soon moving to a location at 12340 Pinecrest Road, Reston.
"I wanted to create an environment where children could experiment and try different things," says Ryan Heitz, who has a Masters of Science degree from the University of Virginia.
Ideaventions Academy is a STEM-based private school for fourth-eighth graders and is the only elementary/middle school in the country to require computer science as a part of its annual core curriculum. The new location at Reston is five times the size of the previous Oakton site. For an art program, the school has partnered with the Leesburg based The Art Station. A shuttle service to the school stops at Reston's Wiehle-Reston East Metro and at Oakton library.
The school's hands-on labs are led by experienced teachers who emphasize divergent thinking and seek to harness a child's natural curiosity about the world. Ideaventions Academy employs about 16 full and part-time staff, and is partnering with a number of local organizations to ensure students have the best experience possible. The programs are designed to share and nurture children's love for the sciences. "When we are not using spaces for our academy, it will be used for enrichment programs… whiteboards will be set up for collaborative zones," said Heitz.
Residents of Oakton, Ryan and Juliana met at Thomas Jefferson High School for Science and Technology. After high school, Juliana traveled to the Massachusetts Institute of Technology where she received her bachelor's in Economics and Management of IT. When the two decided to begin a school, they both wanted to incorporate some of the aspects they observed at Thomas Jefferson High School (TJHSST). TJHSST is one of 18 Virginia Governor's Schools, and U.S. News & World Report ranked the school the best public high school in the nation from 2007 to 2013. "We believe schools should not be contained just within the walls," said Heitz.
The couple is very excited about the new facility. Windows provide the new Reston location with plenty of natural light, and rooms for labs include space for 3D printers. Throughout July, work has been underway at the Reston site in preparation for the new school. Architecture firm Stantec helped with design, and the Oakton site will close at the end of August. The finished school is designed to have a freshness similar to Jefferson's Monticello or Disney World.
School lunches will be provided by Lokl Gourmet, a local catering company that specializes in locally-sourced, all-natural foods. Foreign language classes will be provided by Language Stars, a company that shares Ideaventions Academy's teaching philosophy of play-based, immersive learning. Once a month educational field trips will be planned, and students can see how science ties in with the humanities. Ryan Heitz has made contact with one of the curators at the Smithsonian Natural History Museum.
Ideaventions Academy combines hands-on, project-based learning with classical education, providing a collegial environment where students help design their schedule, choosing from required core classes and a diverse set of electives. Courses include: computer science, cellular biology, computational design, Android app development, engineering and more.
The Heitzs broke ground on the Ideavention Academy's location on Pinecrest Road in Reston on May 18, and the school is slated to open for its first full academic year on Sept. 8.