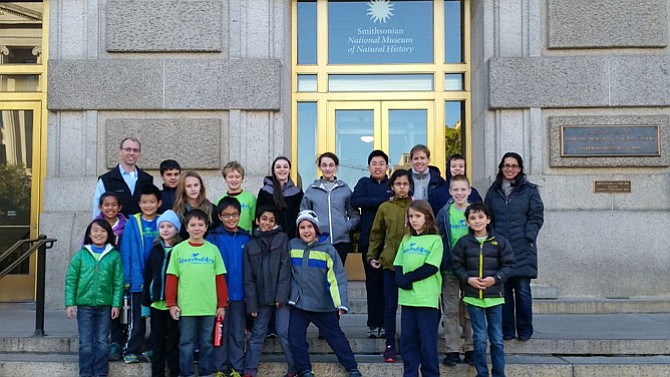 Ideaventions Academy for Mathematics and Science in Reston which opened in the fall of 2015, has celebrated several achievements over the past months. A school for gifted fourth through eighth grade students who have a special interest in science, technology, engineering and/or math (STEM) is located at 12340 Pinecrest Road in Reston. The private academy was one of the first elementary/middle schools in the country to require computer science as part of its annual core curriculum.
Ideaventions was selected as a Google Expeditions Pioneer School and on Jan. 7 went on a day-long virtual international field trip visiting places as close as Philadelphia and as far as Mars, from the top of Mount Everest, to underwater at the Bikini Atoll, from the edge of the Sahara to the Amazon rainforest. Expeditions is Google's VR platform made specifically for the classroom, allowing teachers to take their students on immersive field trips all over the world. The Ideaventions Academy jumped at the opportunity to be a part of the pioneer program as it fits with the experimental ethos of the school. The school is getting a class set of Google Cardboard to enhance teacher's lessons with a gift from one of the families, and staff await for Google to release the classroom-based technology later this school year.
The school has received positive reviews from families and parents. "We were drawn to Ideaventions Academy by the school's vision and philosophy for teaching gifted children," said parents Ozzie and Beth Enriquez. "We have seen the vision implemented as planned and have been pleased by its results. Our daughter has regained her enthusiasm for learning and is eager to go to school every day. The talented teaching staff has created a nurturing, community based classroom environment."
Ideaventions Academy was started by alumni of Thomas Jefferson High School for Science and Technology, Juliana and Ryan Heitz. After an unsuccessful search to find a science enrichment class for their son, they decided to create their own teaching science center and started Ideaventions. Ideaventions opened its doors in 2010 at Oakton, and brings classes, camps and after-school programs focused on STEM to young learners. In 2015 it relocated to a larger location in Reston.
Additional activities at Reston have included visits by Thomas Jefferson and Alexander Hamilton from the American Historical Theater. Students were able to ask questions to learn about the forming of the new republic, as part of learning history through immersive experiences. Ray Smith, a local naturalist and teacher of Ornithology for the Audubon Society of Northern Virginia, volunteers his time and joins the school on the Morning Walk program. "I would say though, that our biggest accomplishment is that the kids are truly happy. They enjoy learning and coming to school," said school founder Juliana Heitz. "They don't like missing class and don't like to leave at the end of the day. They have been challenged by the projects that they work on and when there's a project that clicks with their individual interest, they continue to work on it at home, not because it's homework, but because they are so engaged."