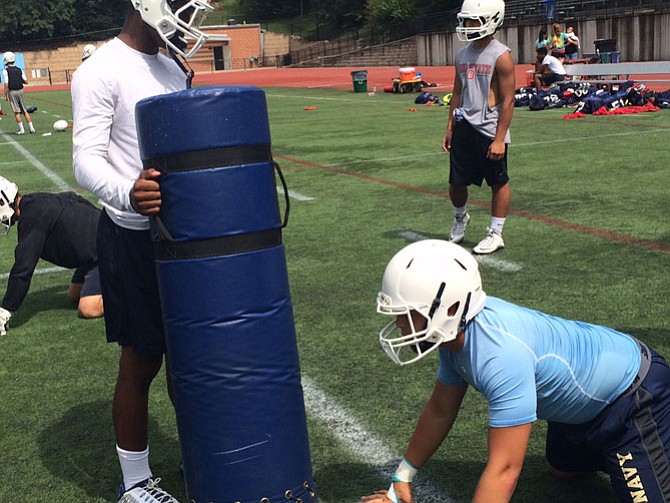 Bruce Hanson has been a part of the Yorktown High School football team for 31 years, racking up two regional titles, two regional runners-up finishes, and an induction into the Fairfax County Football Hall of Fame.
The 2014 squad went 7-3, advancing to the regional playoffs. The Patriots are used to success. However, after graduating a number of starters in 2015, the new team will be faced with the challenge of playing with inexperience.
"We lost an awful lot of guys," head coach Hanson said. "We're a little thin, but hopefully we'll find a way to win some ball games."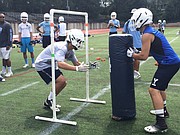 With a majority of the 2014 team's starters having graduated, a number of young players will be forced to step into unfamiliar positions.
"We have some returners [on defense] that know the speed of varsity football, which is extremely different from junior varsity," safety Parker Denny said. "A lot of the players on defense are new to this level, which is something they don't have going for them."
Offensively, the team will be led by a group of returning seniors, including running back Zane Killgo, wide receiver Matt Paredes, kicker Mehran Roshanaei and fullback Jordan Whalley-Hill.
"We have a lot of seniors," Killgo said. "We have the ability to score but the ability to stop teams is very important in order to win games."
While the team as a whole lacks experience, a number of seniors have grown to be strong skill-position players.
"Our line is young," coach Evan Ruffner said. "Our skill positions are definitely the most experienced players on the field. They've put in a lot of work during the offseason and the past few years, so our skill guys are the furthest along."
Yorktown will open the season at Wilson on Sept. 4. The Patriots will also face "strong programs" such as Hayfield, Washington-Lee, and Madison when competing in Conference 6.
"Our lack of depth at every position is going to be our biggest challenge when facing some of the bigger schools," Ruffner said. "The teams we play are going to be two-to-three-guys deep at every single position, whereas we have guys going both ways, not being able to take breaks."
Despite the challenges Yorktown has faced early on, the team is determined to continue the school's winning tradition.
"You should expect to see a team that is competitive on the field and giving 110 percent every play," Ruffner said. "We are capable of making it back to the playoffs and contending for a district title."