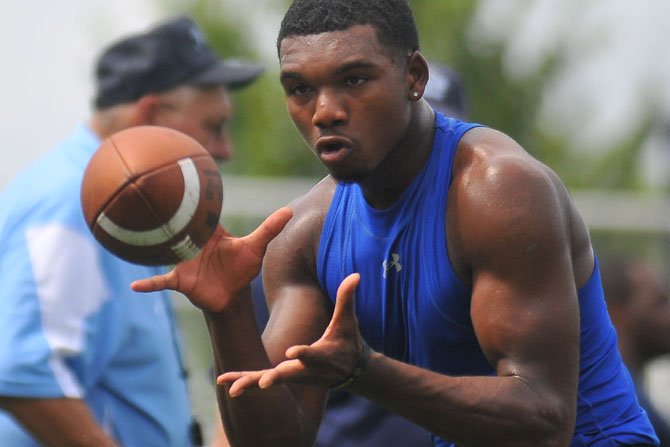 Arlington — Yorktown running back M.J. Stewart rushed for 1,596 yards and 25 touchdowns in 2011. As a sophomore transfer from Bishop O'Connell, he helped lead the Patriots to their first undefeated regular season and a trip to the Division 5 Northern Region final.
Now entering his junior year, Stewart has received scholarship offers from Virginia, Maryland and Old Dominion, has two seasons left to terrorize opposing National District defenses and appears to have a bright future.
One thing he doesn't seem to have is an inflated ego.
"He's a humble kid," said Yorktown head coach Bruce Hanson, who enters his 28th season leading the Patriots.
Ask Stewart about his role on a team that graduated a three-year starter at quarterback and 4/5 of its offensive line and he quickly deflects attention to senior running back Arturo Brown, a transfer from Brooke Point, and first-year varsity quarterback Will Roebuck. Stewart is the star of a team that figures to once again compete for a region championship, but he still works hard and recognizes he has room to improve.
"He's a part of the team and that's the one thing that gets overlooked the most: for such a big-time recruit, he is above all else a teammate."

— Yorktown's Tyler Donnelly about M.J. Stewart
"MJ's a great player," senior linebacker Tyler Donnelly said. "Obviously, he's got big-time schools coming for him … and he realizes that and he's not complacent about it. He's out here working hard, always in the weight room, always at the 7-on-7s, just trying to get better. He's a part of the team and that's the one thing that gets overlooked the most: for such a big-time recruit, he is above all else a teammate."
While Yorktown lacks experience at quarterback and along the offensive line, Stewart is the leader of a group of talented skill-position players that gives the Yorktown offense an opportunity to remain explosive one year after the Patriots averaged 38.7 points per contest. Hanson said it will be difficult for Stewart to surpass last season's statistical totals because more players figure to touch the ball, including the 5-foot-8, 167-pound Brown, who gives Yorktown another explosive running back.
"He's a very athletic kid and he's very tough," Hanson said. "… We kind of knew he was good because we saw him on YouTube."
Senior receivers Micah Gregory and Nick Yore, and tight end Bennett Vogelsang provide pass-catching threats. Roebuck, a junior who quarterbacked the Yorktown JV last season, takes over for three-year starter Jordan Smith.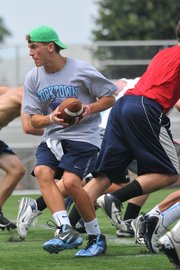 On the offensive line, junior tackle Teddy Schroeder is the only returning starter.
While the offense will battle inexperience at key positions, the Yorktown defense returns seven starters from a group that posted three shutouts in 2011 and held nine opponents to 15 points or fewer. While the graduation of second-team all-region linebacker Austin Browne creates a hole in the Patriots' 3-4 scheme, fellow inside backer Donnelly has taken over as a leader.
"He's a very smart kid out on the field," defensive coordinator Wayne Hogwood said. "He's tough and aggressive and he's stepped into a leadership role this year that we didn't expect — it just came out of nowhere."
Donnelly had high praise for Hogwood.
"We have the best defensive coach in the state," Donnelly said. "I don't care who says what: Wayne is the best defensive coach in the state of Virginia. Under his tutelage and with our ability, we will again be a force to be reckoned with."
Stewart and Gregory are the team's safeties.
"A lot of times, when you have a team [as] good [as the 2011 team], you have a lot of seniors and … it's hard to maintain it," Hanson said. "… This is the best team that we've had coming off a good year that we've had in a long time."
Last year, Yorktown went 12-0 before losing to South County in the region championship game. Each of the Patriots' victories came by at least 14 points, with five of their wins coming by at least 34 points. But after nearly three months of dominating opponents, Yorktown ended up on the wrong end of a blowout against South County, losing 37-13.
"Coming up short last year," Stewart said, "was definitely a downer for everybody."
Yorktown has one change to its schedule this season: the Patriots will open with Bowie (Md.) on Aug. 31 rather than Wilson (Washington, D.C.). Yorktown will host Bowie, Herndon (Sept. 14), Stuart (Sept. 28), Edison (Oct. 5), Langley (Oct. 12) and Mount Vernon (Oct. 26). The Patriots will travel to face Wakefield (Sept. 7), Hayfield (Sept. 21), Falls Church (Oct. 19) and Washington-Lee (Nov. 2).
Hanson said the Patriots might have what it takes for another 10-0 regular season, but downplayed the importance of such an accomplishment. He said he hopes the team stays humble — a demeanor exhibited by his star running back.
"Sometimes winning a lot of games is fun and all that, but if you want to win championships, sometimes you have to face some adversity," Hanson said. "We think that we're going to be good, but hopefully we're not cocky."