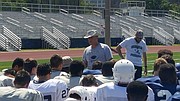 While the Washington-Lee football program is used to dealing with a lack of depth, the loss of multiple potential playmakers has the Generals in a bind.
During the offseason, W-L had a running back transfer to a private school and lost a quarterback candidate to off-the-field issues. Less than a month ago, projected starting quarterback Ceneca Espinoza experienced a family tragedy and is not expected to play until the third game of the season, head coach Josh Shapiro said.
The Generals entered their Blue/Gray game on Aug. 15 with roughly 50 players between varsity and JV, Shapiro said. Starting center Justin Robinson suffered an ankle injury during the scrimmage, the severity of which wasn't immediately known.
"It's definitely been the most challenging preseason," said Shapiro, who enters his ninth season as W­L head coach.
The Generals finished the 2014 season with a 6-5 record, losing to West Springfield in the opening round of the 6A North playoffs. It was the Generals' third playoff appearance in the last five years.
If W-L is to return to the postseason, the Generals will need a strong season from rising senior Espinoza, who played running back and strong safety last season but worked at quarterback during the spring.
"He's very intuitive," Shapiro said. "[He's the] most intuitive player I've ever been around. ... He's the guy that's going to stir it up. If he's healthy, if our line's healthy, we can do a lot of good things. He's paramount to our success."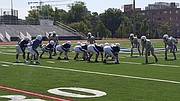 Filling in at quarterback for Espinoza is rising senior Henry Casey, who has no prior experience at the position. Casey is normally a receiver.
Whoever is playing quarterback for W-L will line up behind an experienced offensive line composed of five seniors. Shapiro said it is the biggest line he's had in nine years. Fredd Smith (6 feet 1, 290 pounds) will play left tackle, Jack Appel (6-1, 270) is the left guard, Robinson (5­10, 260) is the center, Heath McCoy (6-4, 290) is the right guard and Mick Appel (6-1, 270) is the right tackle.
Rising junior Quinn Parks, rising senior Gene Jones and Casey are receiving threats.
"If you get a healthy Ceneca, and with Gene Jones, Quinn Parks and Henry Casey to throw to," Shapiro said, "we're pretty good."
Rising senior Diego Orantes is the projected starter at running back.
"I think we've got a good core group of seniors," Shapiro said, "who are hard-working good kids and they've been on the field on Friday nights."
W-L has operated out of the shotgun in recent years, but Shapiro said the Generals might transition to an under-center offense.
On defense, W-L operates out of a base 4-3 scheme. Rising senior linebacker Tyler Lutz, rising junior linebacker Tommy Ellis, rising senior lineman Keani Solorzano and rising junior lineman Tony August are standouts.
Washington-Lee will scrimmage at home against Annandale at 7 p.m. on Thursday, Aug. 20, and on the road against Chantilly at 6 p.m. on Aug. 27.
The Generals will open the regular season at home against Westfield at 7 p.m. on Thursday, Sept. 3. Westfield has played in each of the last four region championship games.