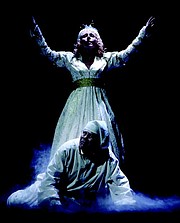 Where and When
"A Christmas Carol," a musical presented by Theatre IV at the McLean Community Center, Alden Theatre, 1234 Ingleside Drive, McLean.
Performances on Saturday, Dec. 12 at 1 p.m. and 4 p.m.
Tickets $15/$10 MCC district residents.
Call 703-790-0123 or visit http://www.mclean...">www.mcleancenter.org.
Note: For ages 5+.
"We wanted to present a quality holiday program with fun music for families with younger children to enjoy", said Kathleen Herr, director of youth programs, McLean Community Center. And Herr found just that in Theatre IV's heartwarming musical production of "A Christmas Carol."
The score for "A Christmas Carol" is by the legendary composer Jule Styne. He is famed for his award-winning work for shows such as "Peter Pan," "Gypsy" and "Funny Girl." He also wrote the seasonal classic, "Let It Snow! Let It Snow! Let It Snow!"
In a sprightly musical aimed at families and children aged 5 and up, Charles Dickens' timeless literary classic "A Christmas Carol" will jump from the page to life right before your eyes," said Eric Williams, director of Tour Operations, Theatre IV, Virginia Repertory Stage. Each year the professional Theatre IV tours the Commonwealth of Virginia with plays performed at hundreds of schools and other venues.
"The show has a reach that goes far beyond Christmas," added Williams. For those who know Dickens' original story, all famous characters are there; from the miserly Ebenezer Scrooge to gentle Bob Crachit and his young son Tiny Tim and the yuletide ghosts as well, as those famous refrains "Bah Humbug" and "God bless us everyone." For younger children, the production will introduce them to a classic of literature in a not too scary manner according to Williams.
"The production follows the transformation of Scrooge from miserly to 'Giddy as a school boy' and it's wondrous and a perfect holiday treat," noted Williams. "The entire family will be transported back in time to 19th-century England. Though the time period is far removed, the story is timeless."
"Live theater is a great treat for younger children," indicated Herr. "They get to be up close and personal with the characters. They also get to experience the thrill of being in a theatre and experiencing the music, set, lights and costumes while enjoying a wonderful story."

Along with the 60 minute production, children attending the Alden performance can expect to enjoy activity books with crayons.
"It will be a fun family experience of a holiday classic. Great for the entire family at a reasonable price right in their community," added Herr.