The Little Theater of Alexandria (LTA) is presenting Charles Dickens' classic, "A Christmas Carol," from Dec. 4-19. The story follows Ebenezer Scrooge, a miserly Victorian humbug, who travels with ghostly guides through Christmas past, present, and future to find the true meaning of the holidays. Complete with special effects, Victorian carols, and Tiny Tim, "A Christmas Carol" is a must for the family.
Lawrence O. Grey Jr. plays the role of Ebenezer Scrooge. He said Dickens chose the name Ebenezer, which in scripture means "the stone of help," to describe the help given to Scrooge by the spirits to change his life. He said the surname Scrooge may be from an obscure English verb scrouge, meaning "squeeze" or "press," describing the cold-hearted miser who has pressed the joy out of life and has taken refuge in greed, avarice, and life without emotion and caring.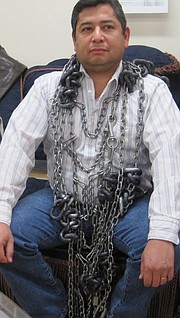 "Scrooge's story represents to me the ultimate meaning of Christmas," he said. "It is a story of redemption. To a life trapped in darkness that holds only doom and despair comes a message of hope and change and light. Throughout 'A Christmas Carol,' the personality of Ebenezer Scrooge shifts from a man who only cares about himself and his wealth to a man who cares about others."
Nathaniel Burkhead plays the role of Tiny Tim, a sweet, kindhearted and innocent character. "I love how he stays happy and filled with Christmas cheer," he said. "He is the kind of person that will always see the glass as 'half full,' no matter what happens."
He said a challenge in working on this piece was learning to speak in a British accent and learning to walk with a limp, which resulted in a sprained ankle. Lastly, he said there was the challenge of finding the right-sized crutch.
Colin Davies plays the role of Mr. Whitham, also known as one of the Gentlemen. He said the narrator is "essentially the voice of Dickens, responsible for introducing scenes and setting the context and commenting on the action, as a kind of Greek chorus." He adds: "The Gentleman I play is humorous, slightly pompous and good-natured."
He said what was unusual about the role of the Narrator is that he does not actually interact with any of the other characters, apart from the other Narrator (who is played by Dan Lavanga). "He speaks to the audience, but not to the other people on stage, which means he does not develop his relationship with others and broadens his character," he said. "The challenge is to explain what is happening, or about to happen, without detracting from the action."

He adds: "I grew up in England, and so was steeped in Dickens, and I admire the way he can write very touchingly without becoming over-sentimentalized. We are living in difficult and unpredictable times, and Dickens's story seems more relevant than ever. Like many people, I have recently been saddened by the lack of sympathy expressed by some towards those in far worse conditions than ourselves, and 'A Christmas Carol' expresses very effectively the message of Christian kindness and generosity towards others."
Erik Rieloff plays the role of Fred, the nephew of Ebenezer Scrooge and only surviving family member. "Fred is very resolute in his ways and is happy no matter how his uncle treats him or feels about his presence," he said. "I love my uncle no matter what and I am intent on spreading Christmas cheer to him no matter what. Fred is the life of the party and everywhere he goes people love him for his humility and giving nature."
He said his biggest obstacle is that he's not used to playing someone who is so cheerful and constantly happy — no matter what the circumstances may be. "It is a challenge each time our wonderful director tells me to be more cheery, lol, but I guess you can just accredit that to my NYC roots," he said.
Rieloff also plays the Ghost of Christmas Future, the most feared and dark character in the play. "He does not speak at all but has a very menacing presence and is symbolic of the most dreadful of outcomes in Scrooge's life should he not take heed of the lessons learned from the previous encounters with other spirits," he said.

Daniel J. Calderon plays the role of Jacob Marley, who was just as Scrooge was in the beginning of the play — a shrewd, unfeeling man of business who weighs any situation by the amount of monetary profit he might gain from it. "It isn't until he dies that he realizes how much of a waste that is, and so he has returned to the one friend, and protege, he had in the world — Ebenezer Scrooge — to save him from the same fate in the afterlife," he said.
The challenge for him was the accent. "I've done accents throughout my time on stage, but finding the right one and sticking with it was hard," he said. "Fortunately, I had a patient director and some fellow cast members who could help me find my way."
He said there are no insignificant players in the show; everyone is important to everyone else. "Everyone Scrooge encounters is key to his salvation and I hope the audience sees the correlation in their own lives," he said. "It's not just about being 'nice' on Christmas. It's a story of how to keep that kind of spirit actively working through each of us every day of our lives because — as Jacob Marley found out — it is too late once we are no longer in this world."
Katya Zaitsev plays the role of the little Girl Cratchit, a very happy girl who loves her family and who likes to help people. She said a challenge for her is that "sometimes it can be hard to focus on two things at once; like saying a line and getting a basket to decorate the Christmas tree," she said.
Show producer and LTA president Lloyd Bittinger said he wanted to produce because when the Board of Governors was selecting a director, Rachael Hubbard was asked to direct. "She and I discussed and made a deal that if she would direct, I would produce. She's wonderful to work with and truly loves this story. She also gets the most out of the actors and ends up with a terrific production," he said.
He added: "I like to work in the various areas of the theatre and also do a lot of work on the lighting team, hanging and focusing lights, and running the light board. My goal as producer is to pull all of the elements together to make this the best holiday production the Little Theatre has ever done."
He said he wanted to take on the singular role as producer because he had co-produced the production before and felt like he would be able to do a good job having had that experience.
Between the director, the musical director and himself, they are working to make this year's production the most audience-pleasing "A Christmas Carol" ever. "We want to have the deep and dark scenes because they're important to telling the story, but we are adding some songs and dancing to lighten up the production," he said. "We want the audience to leave the theatre smiling and being happy and singing a song. This is our gift to the community for a happy holiday season."
The Little Theatre of Alexandria, 600 Wolfe St., Alexandria, is staging "A Christmas Carol" from Dec. 4-19. The show runs Thursdays-Fridays at 8 p.m.; with Saturday and Sunday matinees each at 3 and 6 p.m. Tickets are $15. Call 703-683-0496 or visit thelittletheatre.com.