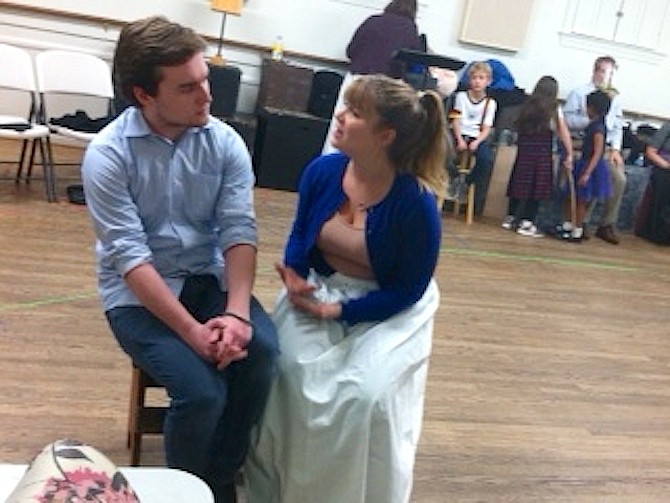 Continuing with its wonderful holiday tradition, the Little Theatre of Alexandria is again presenting Charles Dickens' "A Christmas Carol" from Dec. 6-22, 2019. As everyone knows, the story follows Ebenezer Scrooge, a miserly Victorian humbug, as he travels with ghostly guides through Christmas past, present, and future to find the true meaning of the season.

According to Director Kelsey Yudice: "The story of 'A Christmas Carol' is such a special one, because it is a holiday tradition for many people around the world. Since this is such a well-known story, there is a little pressure as to how you will create it differently or similarly to others in the past. I am hoping to keep the heart and soul of the play, all while adding my own magical spin to it with the help of some Christmas ghosts."
She added: "'A Christmas Carol' is enjoyable for all ages; great for those seeing it for the first time, or those who have seen the play a hundred times."
Co-producers Jim Howard and Carol Strachan added: "We love this time of year and 'A Christmas Carol' at LTA has become an Alexandria tradition. It is a lot of coordination of set build, painting, lights, sound, costumes, scheduling, playbill and staffing this production of over 50 backstage volunteers."
Bob Chaves, who plays the lead role of Scrooge, said: "I have attempted not to mimic any of the dozens of portrayals of him that have been presented in film or on stage and instead have tried to make him a bit more sarcastic and not angry or mean-spirited. I hope the audience sees that. As Dickens said to his readers: 'May it haunt their houses pleasantly.'"
He added that Director Yudice has spent a lot of time working with the entire cast discussing how all the characters interact, and why Scrooge is the way he is; and what might be behind his bitterness, "because ultimately, by the end of the play we see him transform into a decent, caring human being. He just needed a big push in that direction," he said.
James Senavitis plays the role of Bob Cratchit, who he compares to your neighbor who's putting up Christmas decorations the day after Halloween. "He is the child in all of us that still races downstairs on Christmas day to see what is under the tree. He is a family man in the oldest fashion of the word 'family.'"
He added: "What I hope the audience will take away from our 'Christmas Carol' is that, Christmas is about family. Family is why I wanted to do the show. I wanted to share a stage with my real-life wife (Aimee Meher-Homji) and daughter (Arielle Senavitis)."
Erika Olander plays the role of Mrs. Cratchit, the wife of Bob Cratchit and mother of Tiny Tim. "I see her as a very strong and smart woman who could stretch her husband's meager earnings to feed a family of eight. I'd also like to think she 'wears the pants' in the family, even though it would be decades before women would wear actual pants!" she said.
She added: "My greatest challenge has been time management, by far. I am a full-time physician and had not done theater for many years due the demands of my work. After taking a new position with a clinic in Alexandria two days per week, I thought I'd take a look at the auditions for LTA. I am so glad I did! I have been very busy, but performing is pure joy and a great stress relief."
Kevin Broderick, who plays the roles of Jacob Marley, pawnbroker Joe and Poulterer, added: "I am very happy to be a part of this wonderful cast as we prepare 2019's presentation of 'A Christmas Carol.' Our cast and crew is really drawing together as a team, and we've been working hard in our rehearsals to make this show everything it can be."
Florence Ferraro added: "Like most of the people in this wonderful ensemble, I have multiple roles: a town beggar woman, a guest at Fezziwig's Christmas party and the Ghost of Christmas Future. When I accepted the role of the mysterious and typically completely shrouded Ghost of Christmas Future, I made sure that I would get to do a little dancing and cavorting with my castmates onstage; however, I was delighted to find that the Ghost of Christmas Future in this production will be played a bit differently. No spoiler-alert here. You will have to come to the show to see the changes!"
The Little Theatre of Alexandria is presenting "A Christmas Carol" from Dec. 6-22, 2019. Show times are Wednesdays to Fridays at 8 p.m.; and Saturdays and Sundays at 3 and 6 p.m. Tickets are $20. The venue is located at 600 Wolfe Street, Alexandria. Visit the website: www.thelittletheatre.com.