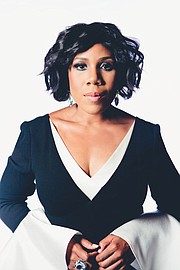 Where and When
Melinda Doolittle presents "It Must Be Love" at CenterStage, Reston Community Center, 2310 Colts Neck Road, Reston.
Performance: Saturday, Dec. 19.
Tickets: Reston $25, Non-Reston Ticket Price: $35.
Call 703-476-4500 or visit: http://www.reston...">www.restoncommuni....
She wowed judges and audiences alike performing on season six of American Idol. Now Melinda Doolittle is coming to Reston's CenterStage to present a cozy evening filled with soulfully sweet arrangements of songs ranging from "Home" from the musical "The Wiz," to American Songbook favorites such as "Let's Stay Together," "The Man That Got Away," "At Last" -- to mention a few.
Doolittle, who has performed at illustrious venues such as the White House, the Kennedy Center and Carnegie Hall, will bring her evening of treasured music into a program she calls "It Must be Love." She will be accompanied by a piano.
In an interview, Doolittle indicated that she loved "to sing about love and I definitely picked songs that told my story well. Sometimes you hear a song and you feel like whoever wrote it must have been living your exact life...those are the songs I will put into this show. "
Doolittle enjoys touring. "'It Must Be Love' is a fun show to do! It takes the audience on a journey through the ups and downs of love with classic soul, Broadway and jazz songs they're sure to recognize," said Doolittle. "The journey is funny, fast and will occasionally pull on heartstrings too."

When performing, one of Doolittle's favorite parts "is watching the audience relate in their own way to each song. I love it!" Each show becomes unique in its own way since she has freedom to interact with the audience in what she calls "a musical conversation."
When asked about scheduling Doolittle for Reston's CenterStage through the Professional Touring Artists Series, Paul Douglas Michnewicz, arts and events director, Reston Community Center, said, "I vowed never to watch "American Idol" again when she did not win. Melinda Doolittle is such a remarkable artist and I am so happy that she will be on CenterStage so that I can tell her in person what a fan I am of hers."
Beyond singing, Doolittle is involved with community outreach and support. "Basically, I love to see people live the best life possible...especially children." She has partnered with organizations such as "Malaria No More" and the Ronald McDonald House to make a difference for children.
As for her "American Idol" appearances, "I'm indebted to them for the opportunity to do what I love."

And now local audiences can see Melinda Doolittle all for themselves.