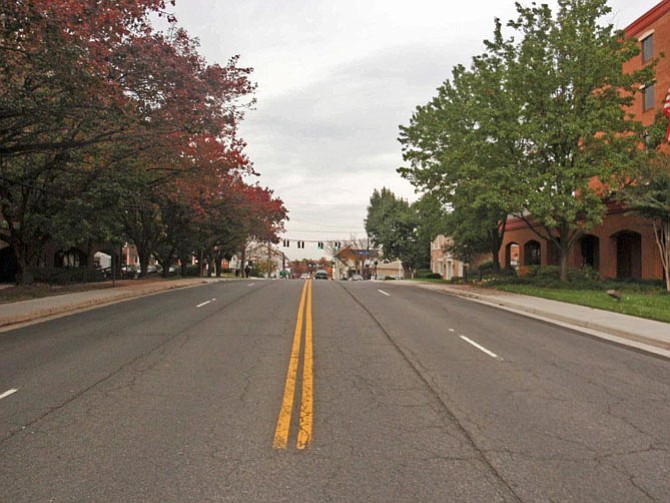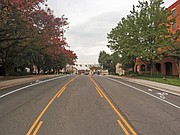 University Drive is going on a diet, but not the kind involving food. Instead, new markings will narrow the road's travel lanes to make room for a center turning lane, plus a bike lane on each side.
To improve multimodal connectivity between GMU and Old Town Fairfax, one of the recommendations from last year's charrette was to repurpose University Drive's pavement to provide bicycle lanes. So the City of Fairfax had the civil engineering firm of Sabra, Wang and Associates, Inc. evaluate the situation.
Engineers determined the project limits and the potential impact to traffic flow, emergency operations and bicycle movements on University Drive. They also studied University's intersections with Main Street, Sager Avenue, Fire Station 3 – on University – and Armstrong Street.
THE WORK will modify the road's configuration between Armstrong and South streets by providing three travel lanes – one lane in each direction, plus a center turn lane – instead of the current four lanes (two in each direction). The transition area from four lanes to three will be between South Street and Sager. The project will also complete the missing link in the Mason to Metro to Mason bike trail.
After receiving and discussing the study information, the Fairfax City Council voted to go ahead with the plan. The goals are to: Reduce vehicle speed in that corridor; provide bike lanes on University – which was designated a "bike-friendly street" in the City's bicycle plan; and make sure the new configuration will not negatively impact traffic or transit bus operations there.
The travel lanes will be 10.5-feet wide, with a 12-foot-wide turning lane and 5.5-feet-wide bike lanes, buffered from vehicle traffic where possible. And the left southbound travel lane at South Street will become a left-turn-only lane,
When City Council discussed this project in an early September work session, some concerns were raised. "I'm a bike rider, and a 10-foot-wide roadbed is already narrow," said Councilwoman Nancy Loftus. "There are already clipped bus mirrors now. And I'm worried that the cars will encroach into the bike riders' lane."
However, Public Works director David Summers told her that "Between Main and North [streets], the travel lanes are only 8-and-a-half feet wide [now]. So this would actually be wider."
Councilwoman Janice Miller asked if fire engines would have enough room to maneuver in the new configuration, and Paul Silverman, a consultant with Sabra, Wang and Associates, Inc., said they would. In addition, Transportation director Wendy Block Sanford said former City Fire Chief Dave Rohr "saw these plans and approved them."
"Between Sager and North, I thought the diet would be a complete mess," said Mayor Scott Silverthorne. "But this seems manageable."
"Cars tend to zip down that section of roadway now," added Miller. "So maybe this would make them slow down."
Silverthorne also noted that this project could be set up as a pilot program that could be revisited fairly easily to see how well it is working, and that is what eventually happened. It will be reevaluated after one year. At the later public hearing for this project, Miller asked how it would be evaluated, and Sanford said they would see if the University Drive intersections are less congested than now.
"We'll also see if the speed limit of the vehicles there comes down," said Sabra, Wang representative Brian Laverty. "And we'll survey the bicyclists and see how many of them use the bike lanes."
RESIDENT Bob Reinsel Sr. told the Council that this change "will signal to GMU that you really want to link the City and the university."
Agreeing, GMU Transportation coordinator Marina Budimir said, "It would greatly improve bicyclists' safety between the university and the City of Fairfax."
Douglas Stewart, with Fairfax City Citizens for Smarter Growth, said, "We fully support this, and we think it'll support more bicyclists and pedestrians. The [similar] road diet in Reston reduced road accidents by two-thirds, and calming traffic creates a more bicycle- and pedestrian-friendly environment."
Resident Hunter Brown called it a "great idea" and said he was in favor of it. Likewise, resident Frank Linton said it "provides access for City residents to the Mason to Metro trail, as well as to nearby parks."
Miller then made a motion to implement the pilot program and the Council approved it. Councilwoman Ellie Schmidt said, "I'm willing to give it a try, so long as we measure and evaluate it in a year."