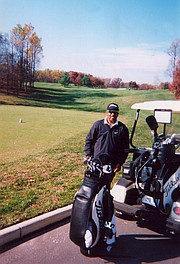 Leonard Charles Proctor Jr. died Dec. 9, 2015 at his home in Derwood, Md.
The son of well known equestrian Leonard C. Proctor, Sr. was discovered on the floor of the living room in his home. "I came downstairs around 4:30 a.m., as usual, and nearly stepped on him," his father said. "'Junior' usually went down in the basement and watched television before coming up to bed," Proctor, Sr., said. "I called 911 and they arrived immediately, but it was too late. He was pronounced dead here."
"Junior" Proctor, as he has been called since birth, grew up in Potomac, attended Potomac Elementary School and was a 1970 graduate of Walter Johnson High School where he played baseball and assisted in coaching football. "He also loved to play golf," his father said.
During his lifetime he had a variety of careers including construction, different positions with Potomac's Safeway and Giant stores and lately assisted his father, a well known bar tender at many Potomac gatherings for over 50 years.It has often been said, "Don't plan your event without first checking Leonard's calendar. Proctor, Jr. was a welcome addition.
"Junior" Proctor was preceded in death by his mother, Sue Lee Holston Proctor. He is survived by his brother Jerome A. Proctor, Derwood, by an aunt, former Potomac resident Joyce Holston Jones, Chestertown, Md., who for many years, was associated with The Surrey, Potomac, and by an uncle, Joseph Holston of Germantown.
A memorial service is planned to celebrate the life of Leonard Charles Proctor, Jr., at 10 a.m., Dec. 30, at the Potomac Hunt Club, Dickerson, Md.
The cause of death at this time is unknown.