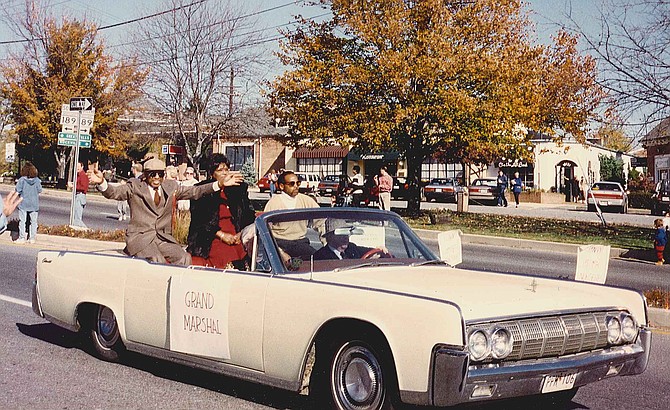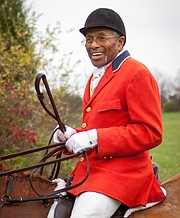 Known for his dedication, kindness, indomitable spirit, love of horses and loyalty to all, Leonard Proctor is a Potomac icon. He worked for 45 years for Mitch & Bill's Exxon until his retirement in 1995 and never missed one day of work. Additionally, he also worked after-hours caring for local families' horses, yards and stables. He tended bar at Potomac parties and drove older local residents to their appointments. He and his wife, Sue Lee (now deceased) were a Potomac presence – always helpful and smiling while they worked for generations of Potomac families.
Proctor was born on April 14, 1930 and grew up in Georgetown, where he went to school. Both his parents died before he finished junior high. He was 17 years old when he started riding horses on the weekends with his Uncle Johnny Jackson, a Potomac legend who lived on Oaklyn Drive. Proctor fell in love with the horses and riding and soon earned his first job walking and tending the horses at the Potomac Hunt. He began riding with the Potomac Hunt in 1947 through 2016 when he retired at age 86.
While hunting, he was entrusted with the task of teaching the etiquette of the hunt to young equestrians. "I had the responsibility of most of the kids at one point," he said. One of the smallest children with whom he worked was long-time Potomac resident Sylvia Bogley Biggar. She said, "Like a mother or a father, Leonard has just always been there. I have never known life without him."
Into his 80s, he still rode 3-4 times a week and continued to be one of the most sought-after dancers at many parties, including the Hunt Ball. His dance card was always full. "I just keep dancing all night," he said with a smile. He was such a good dancer that he entered regional dance competitions and won first-place for his merengue and second for his foxtrot.
Proctor explained that he knew everyone in Potomac in the '50s and '60s. "It was a small town — and I knew where everyone lived. I used to drive kids home when they were stuck in Potomac and it was too far for them to walk. Potomac was a really nice place and everyone had so much fun."
Proctor and Jackson were fixtures at the parties in Potomac. They cooked dinner, served it, took photos, and served drinks. No one planned a party without calling them first to be certain they were available. Once they approved the date, they were given the guest list and made all the alcohol purchases since they knew what everyone drank.
"I had their drinks poured as I saw them," said Proctor. "The exception was Dr. Kneipp; he would switch his drink at each party." Jackson and Proctor's lives were woven into the lives of the Potomac Hunt Club members. He fixed their horses, their cars, and their drinks, and was a loyal friend to all.
Now 88, he is in need of financial help to ensure he can live out his life with dignity and peace of mind. His financial circumstances have declined since he can no longer perform the many jobs he used to. His income is limited to his Social Security pension. He has exhausted his savings, depleted the equity in his home through a "reverse mortgage" arrangement, and has been prey to senior financial scams.
Potomac residents Janelle Sherfy Straszheim and Devereaux Raskauskas grew up with Proctor, who helped them improve their riding, and befriended them in many ways. They continued to be good friends and visit each other regularly. Over the course of several recent visits, they became aware of his declining financial circumstances. They are now devoting time and effort to assisting him. Since they both have expertise in this area (Straszheim is employed by Sandy Springs Bank and Raskauskas works for Larmax Senior Assisted-living Homes), they have taken over his bill-paying to avoid any further elder financial exploitation.
Raskauskas said, "We are committed to helping him pay off household repair expenses finances at exorbitant interest rates (27.99 percent to be specific). We are also pursuing the availability of public assistance services."
Two fundraising goals have now been established for Proctor's benefit by Straszheim and Raskauskas. First, obtain sufficient funding through immediate donations and future pledges to supplement Proctor's monthly financial needs for the remainder of his life. Secondly, pay down his outstanding home improvement loans for a roof replacement ($15,500) and an HVAC system ($4,600.)
They have set up three different methods of making contributions:
Go Fund Me payments at www.gofundme.com for Leonard Proctor.
Periodic scheduled contributions to Proctor's PNC Savings account. Straszheim and Raskauskas will be overseeing the disbursements. Contact either to learn the details.
Mail donations for Proctor directly to Janelle Straszheim, 10812 Fox Hunt Lane, Potomac 20854 or to Devereaux Raskauskas at 14709 Spring Meadow Drive 20874.
These two stewards of Proctor's well-being say: "You have our assurance that all funds will be used only for Leonard's living and health needs. We will be faithful stewards of these funds for Leonard's exclusive benefit. We are establishing a dual-control arrangement to ensure adequate supervision of all financial receipts and expenditures. Donors and gift amounts will be kept confidential."
For further information from Straszheim or Raskauskas, email them at: jstraszheim@gmail.com or devereaux03@msn.com.