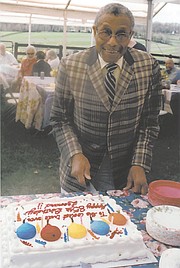 If you have lived around Potomac for more than just a few years there are several things you would think of immediately when the name Leonard Proctor is mentioned. He is a superb horseman, you'd never plan a party without first checking the date with him, he is an avid fox hunter and most important, he is an outstanding individual admired by a legion of friends.
There is small wonder, that following his 85th birthday, April 14, he was treated to no less than four parties and four cakes, including the one at the Potomac Hunt Club where a fox hunting photo of him was embedded in the icing.
The fourth, and last, of the 2015 celebrations took place at Vicki and Skip Crawford's
"Hunter's Trap," Boyds, where a pastoral image is a reality. Rolling fields of freshly mown green acres, horses grazing nearby, forsythia in full bloom, a farm pond with ducks and an absolutely sun glasses, shirt sleeve wearing kind of weather were all included.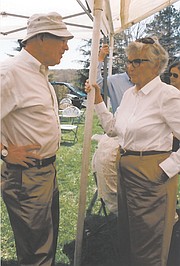 A group of women, known as "LEGS," no, not the usual connotation, but members of the "Ladies Equestrian Gourmet Society," including Stacie Benes, Devereaux Raskauskas, Beverley Bosselmann, Vicki Crawford, Kaja Farnsworth, Francie Johnson and Janelle Strazheim planned and produced the afternoon buffet served beneath two white tents with thankfully no necessity for tent sides. Stories abounded, ranging from tales of Leonard's expertise, not only with horses, but on the dance floor. However, the most consistent remarks included mention of the many, many, times Leonard, and his late friend, and uncle, Johnny Jackson, would assist at Potomac parties, bartending or managing whatever was needed for a successful event.
Sara Lee Greenhalgh, one of many who related "old Leonard stories," used a much needed microphone so no one would miss a prized anecdote of at least 60 years of Potomac lore. She recalled Leonard's wealth of Potomac secrets. "He could tell many stories, but I know he never would," she said.
Others repeated Leonard's philosophy of see all and say nothing. Bob Hanson, who celebrated his 91st birthday this past Monday, agreed with Sara Lee's opinion. He told Leonard, "You and I have gotten together and talked about everything and you have always been very, very careful."
However, Susie Monahan put it most succinctly. "Leonard, please don't write the book." It's a sure bet it would be a best seller.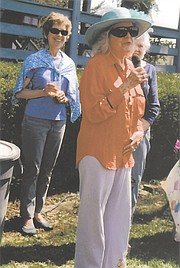 Another of Leonard's pet projects is sending cards to friends. Cards for every occasion. The U.S. Postal service will have no fear of going broke as long as Leonard Proctor is around. Nor will card manufacturers. He sends dozens and dozens honoring holidays and birthdays. A birthday without a card from Leonard would be very suspect, leaving one to worry if he had fallen from his horse and broken his arm.
Mike Mitchell, of Mitch and Bill's Exxon, a Potomac institution since 1949, told the assembled crowd, "He was a role model when I was growing up." Leonard worked at Mitch and Bill's for 45 years. "He taught me how to drive. When we would go on road calls he would let me sit in his lap and steer." Referring to the station's pet dog, Mike added, "Esso would sit in the front seat with us and look out the window." Mike concluded, "Leonard is a true friend."
Potomac Hunt huntsman Larry Pitts, his wife, Peggy, and their daughter, Laura were there. Laura is getting married in June at (where else?) the Potomac Hunt Club. Larry, who has officially retired as Potomac huntsman, and Peggy, are moving next month to Bedford, Va., where they will have plenty of room for their horses. Potomac's new huntsman, Brian Kiely, recommended by Larry, hailed from Myopia Hunt, Ma., bringing along with him a distinct Irish brogue from his native land.
Skip Crawford was among the missing at the party. His wife, Vicki, explained he had accompanied "Senior Senator," their 5 year old gelding, to "The Grand National," one of
Maryland's most prestigious steeplechase races, second only to the Maryland Hunt Cup. "He came in second, missing the win by less than a length," she reported. Perhaps the 2016 Maryland Hunt Cup will have an entry from Potomac Hunt territory. The Maryland Hunt Cup is America's answer to England's Grand National.
Orthodontist, Dr. Tom Blackwood, who has been practicing in Potomac for more than 50 years, and a Potomac Hunt member for almost as many years, was there, as was Happy Bogley, who grew up on Glen Road. "I have known Leonard since I was 4 years old," she said. Visiting here from her farm in Corinth, Vt., Happy said, when she left there last week, the snow was up to her knees.
Others among the group included Elie Cain, Missy Lankler, Bubba Farnsworth, Fran Kay Magassy, and Thurlow Carey with Joyce Jones. Joyce's sister, Sue Lee, was Leonard's late wife. "He was more like a brother to me than a brother-in-law," she said. Joyce, as a teenager, worked at The Surrey, then located in Potomac. Mike Mitchell told The Surrey's Lyne Morgan, "I still have people stop by the station to ask where you are. I just tell them to go up Rt. 28," he said.
Also there were Mike and Lou Bowling Steinfort, Anne Davies, at whose barn Leonard stables his horse, Dr. Csaba Magassy, Lutie Semmes, Ruffin Maddox, Ann and Knight Kiplinger, Pat Smith, Susan Roberts and, no doubt the most important of all to Leonard, his sons, Jerome and "Junior."
It was "Junior" who took the microphone and unabashedly announced, "You're the best dad in the world." It came as no surprise.