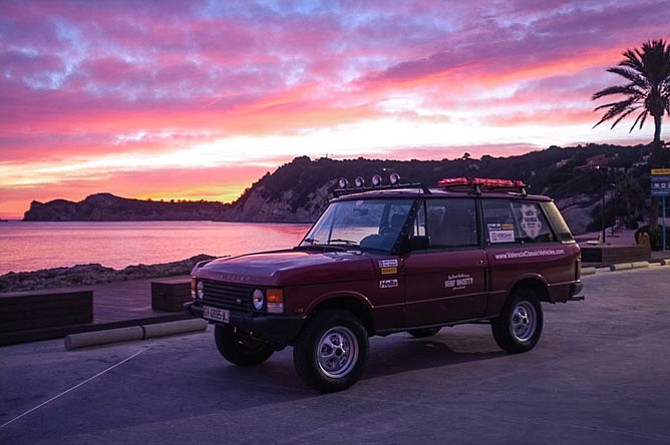 Paul R. Misencik Jr., a South Lakes High School graduate of 1986, competed in the grueling six-day Maroc Challenge, a motorcar rally across some of the most inhospitable, Sahara Desert terrain in Morocco. Reston residents and friends of Paul Jr. followed his progress during the race. The race ended Dec. 9, Paul's birthday. Paul drove with John Spencer Cheevey of Louisiana in a Range Rover.
The Maroc is an adventure rally across Morocco that pits man and machine against the elements of a North African desert nation, with a high level of timing and scoring precision and enough physical tests to wither the unwary. Split into different categories and classes of vehicle, the event is a week-long, with five days of timed stages that combine some paved sections, dirt and sand tracks, and a substantial amount of entirely unmarked open terrain.

The organizer of the event and man who conceived the Maroc Challenge is Rui Cabaco. One hundred and thirty teams and almost three hundred people charged through Morocco in different types of vehicles, from vintage Renault 4s to more modern Toyota Land Cruisers and from Volvo wagons to Mercedes-Benz 190s. The rules stipulate vehicles must be at least 15 years old. Paul's friend and co-driver John Cheevey initially wanted to enter an old car, such as a Citroën 2CV in the race. In the end, the team chose the versatile 4x4 Range Rover.
Depending on the class entered, the inscription fee to race in the Maroc Challenge is on the order of $500-$600 in U.S. dollars. There are equipment rentals for satellite tracking system and additional fees for ferry crossings, but entry is altogether about a grand. With food, fuel and camping expenses, the Maroc can be done for around $2500. And that is per team, so the price tag can be split at least two ways. To put that into perspective, the entry fees for most vintage rallies in the USA and abroad can exceed $5000 and many are higher.

The Maroc welcomed many technologies for the race in the forms of communication, social networking, live tracking satellite of all participants and a new classification system for 3G that allows real-time reading of all racing teams. By day three of the race, many participants were near the oasis town of Erfoud.
Punctured tires and hidden rocks were a challenge for the competitors. In the end, Misencik and Cheevey finished at 18th place, a respectable finish. Misencik previously directed several road rallies in North Carolina, and this is his first time participating in a race of this scale. "He was an automobile aficionado since he was a little guy… he has always been interested in cars," said Paul Misencik, Sr. a former airline pilot and writer.
Work with Valencia Classic Vehicles often takes Paul Misencik, Jr. to Europe. Valencia Classic Vehicles has an office at Falls Church, and webpage at www.valenciaclassicvehicles.com. Valencia Classic Vehicle Consulting specializes in the sourcing and importing of special interest vehicles to suit perceptive collectors.