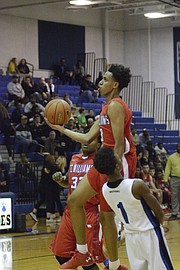 Every time the West Potomac boys' basketball team tried to take control of Friday's Conference 7 contest against T.C. Williams, Fahmmi Mamo brought the Titans back.
West Potomac guard Khalil Williams Diggins buried a left-handed 3-pointer off the glass in the closing seconds of the third quarter, giving the Wolverines a six-point lead. Mamo answered with two buckets in the opening minutes of the fourth quarter, helping tie the score at 42.
Midway through the fourth, West Potomac's Brandan Lisenby grabbed a rebound and headed up the floor, weaved through some Titans and dropped in a layup, part of a 10-3 run that gave the Wolverines a five-point lead. Mamo countered with a pair of free throws and a three-point play, tying the score at 52.
With less than 2 minutes remaining, Lisenby buried a 3-pointer from the corner, putting West Potomac up 55-52. Mamo scored on a tip-in at the other end, pulling the Titans within one.
Then, with less than a minute remaining, one of Mamo's teammates made a play.
T.C. Williams forward Teyan Williams stepped in front of a West Potomac pass in the Wolverines backcourt and dropped in a layup, giving the Titans the lead. The Wolverines' final possession resulted in a missed 3-pointer and T.C. Williams came away with a 56-55 victory at West Potomac High School.
"I dropped in my zone and I was, like, reading his eyes," Williams said about the West Potomac ball-handler. "I just saw where he was passing it, I got in front of it and [made] the layup."
The win evened the Titans' Conference 7 record at 1-1. T.C. Williams opened conference play on Tuesday with an 83-77 loss at Lake Braddock.
Mamo finished with a career-high 32 points against West Potomac, including 14 of the Titans' 20 fourth-quarter points.
"Their guy got hot," West Potomac head coach David Houston III said about Mamo. "He made a lot of shots late. … You've got to give him credit."
Mamo grabbed eight rebounds and knocked down four 3-pointers, the last giving TC a 47-46 lead with 4:40 left in the fourth quarter.
"I just really wanted to win," he said.
Mamo's performance came three days after he scored 28 points against Lake Braddock, which at the time was a career best for the junior.
"He wasn't a major player for us last year," TC head coach Bryan Hill said. "... We were just really focused on working on his game in the offseason, in the spring and the summer and the fall, and it's showing."
Freshman guard Jaquan Johnson-Terry finished with nine points for T.C. Williams. Jordan Jones scored five points. Williams finished with four points and six rebounds, and DeJuan Robinson had four points and five rebounds.
The Titans played without standout guard Tavaris James, who missed a second straight game due to illness.
West Potomac suffered its fourth straight loss after a 2-0 start, and dropped to 0-2 in the conference.
"Sometimes to learn, you've got to go through hurt," Houston said. "This is one of those times."
Williams Diggins led West Potomac with 17 points. He knocked down four 3-pointers and grabbed five rebounds.
Jamie Sara finished with 13 points and 12 rebounds for the Wolverines. Lisenby scored 12 points and freshman guard Daryl Mackey, Jr. had eight.
Next up for West Potomac is the Wakefield holiday tournament Dec. 28-30.
T.C. Williams will compete at a tournament at the University of North Carolina Wilmington Dec. 28-30.
"Obviously, it's a confidence booster for us," Hill said about the win over West Potomac, "but we're trying to remain humble and recognize what got us the win. What got us the win was the work ethic in practice, taking the time to engineer victories because they're just not going to happen, you have to win them. … It's like paying a bill: you've got to do it again."