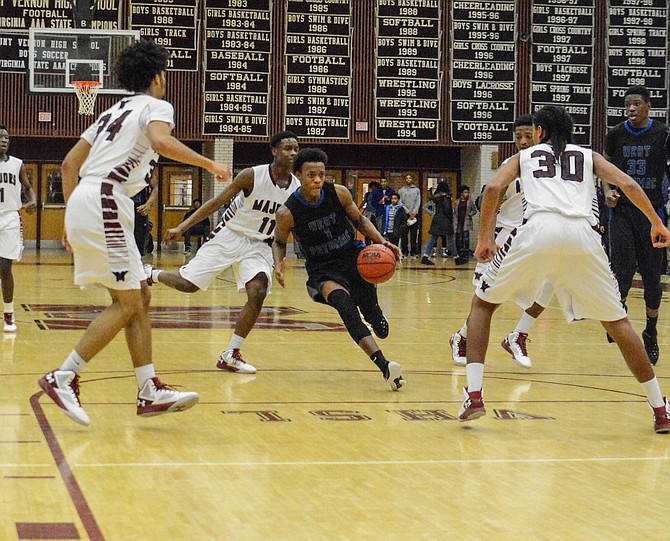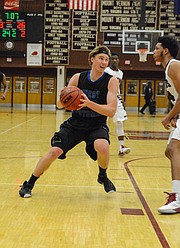 West Potomac boys' basketball coach David Houston III entered Tuesday's contest against rival Mount Vernon thinking his team had an advantage in the post and encouraged the Wolverines to attack the basket and be physical in the paint.
Mount Vernon held its own for the first 17 minutes and the host Majors took a 33-26 lead when senior guard Hameed Oyedele made a pair of free throws with 7:14 remaining in the third quarter.
The rest of the second half, however, belonged to West Potomac.
After 3-pointers by West Potomac's Daryl Mackey and Khalil Williams Diggins cut the Wolverines' deficit to one, and a jumper by Mount Vernon's Alpha Kamara boosted the Majors' advantage to 35-32, West Potomac took over with a physical brand of basketball.
Da'Jon Bellfield got things started with an inside bucket. Jamie Sara scored back-to-back baskets in the paint, including a tip-in. Da'Juan Bellfield flew into the lane to grab an offensive rebound and scored on a putback.
Williams Diggins' 3-pointer with 1 minute remaining in the third quarter capped a 21-2 run for the Wolverines, who continued to pull away in the fourth quarter and ended the evening with a 68-48 victory at Mount Vernon High School.
The Wolverines outscored the Majors 21-8 in the third quarter and 42-18 in the second half. Twenty-five of West Potomac's 42 second-half points resulted from shot attempts close to the basket or free throws.
"That was a conscious halftime adjustment," Houston said. "Inside, Sara needed to get in, Bellfield needed to get inside. We just wanted to work inside-out. We wanted to do it for the whole game, but that was definitely a second-half adjustment — making our layups, getting layups, getting to the foul line and seeing how they handled that."
West Potomac had four players grab at least four rebounds. Sara led the way with seven, Da'Juan Bellfield grabbed six, Da'Jon Bellfield had five and Idaresit Ekpuk totaled four.
"It was all about going back to the principles of what we were doing in practice," Da'Jon Bellfield said. "Boxing out and ... doing what we do best — getting an offensive rebound and tapping it in."
Williams Diggins led West Potomac with 26 points. The junior guard made four 3-pointers and made 5 of 6 free-throw attempts in the fourth quarter.
Freshman guard Mackey scored 14 points for the Wolverines and Sara had 13. Da'Jon Bellfield and Brandan Lisenby each had five points.
"I felt that West Potomac did a good job of establishing dominance in the paint and we kind of slacked off in the second half," said first-year Mount Vernon head coach Lou Golden, who spent the previous nine seasons as an assistant for the Majors. "We played with a lot of energy inside in the first half, but didn't come with that same energy in the second half. ... I think we mentally lost it and forgot about the boxing out, forgot about the rebounding and were just trying to out-jump them and they are just way too athletic to out-jump ..."
West Potomac led 57-42 with 3:32 remaining in the fourth quarter when Golden received two technical fouls for arguing with officials. Golden felt a West Potomac player should have been called for basket interference for slapping the backboard during a Mount Vernon shot attempt.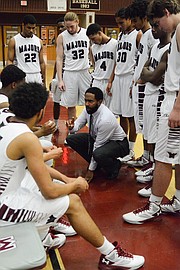 "I thought some of the calls weren't going our way — naturally every coach is going to feel like that — but that particular play I've seen ... 30 times and 29 of those 30 times that's a basket interference with the magnitude that he hit the backboard with," Golden said, "so, one, I wanted him to explain how that wasn't basket interference. For two, I really was trying to show my team I'm fired up, I'm passionate about this game, I'm willing to get thrown out of the game to go all-out, to show you how passionate I am about winning and playing hard just because I felt that they weren't giving that to me."
Kamara and Timothy Edwards each scored 12 points for Mount Vernon. Oyedele finished with 10. Orlando Teel grabbed six rebounds and Josiah Jimboy grabbed five.
The victory improved West Potomac's record to 6-6 overall and 3-2 in Conference 7. The Wolverines have won three straight conference games, including victories over Lake Braddock and Woodson, after suffering a 56-55 home loss to T.C. Williams on Dec. 18.
"We thought we gave one away against TC," Houston said. "We thought we should have been one more up on the win column, so only way to make it up is to get one here. ... We learned from our mistakes. The TC game was a big game for us ... because we made a lot of mistakes."
Mount Vernon dropped to 5-7 overall and 1-4 in the conference.
The Majors will travel to face T.C. Williams at 7 p.m. on Friday, Jan. 15. The Wolverines will travel to take on Annandale.
"It fuels our confidence, but we've got to know we've got to stay within ourselves," Sara said. "... That's three in a row, [and we want to] keep it rolling. We know we have something now but we've got to build off of that. We know we have athletes, we're athletic, we can get in the paint, [and we need to] keep it going."