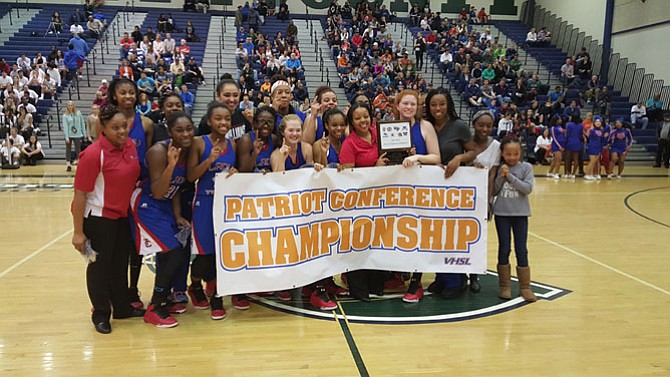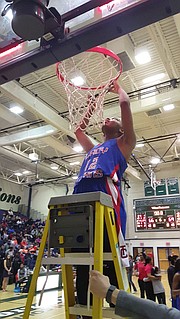 The T.C. Williams girls' basketball team, playing in its third game in three days, entered a second overtime period during the Conference 7 tournament final against two-time defending champion West Springfield.
While inclement weather forced every team in the conference to deal with the challenges of completing the tournament in a single weekend, TC, at this point, was stretched exceptionally thin.
Due to injuries, the Titans entered the game with eight available players. Due to fouls, the Titans were now left with the five players they had on the court. Standout freshman guard Trinity Palacio, one of the Titans still able to play, had picked up her fourth foul late in the third quarter.
Despite the adversity, the Titans used tough defense and clutch free-throw shooting to emerge as champions.
T.C. Williams, the No. 3 seed, defeated No. 1 West Springfield 69-66 in double overtime during the Conference 7 tournament final on Sunday, Feb. 21 at South County High School. It was the Titans' first conference/district title since 2013 and the first time TC defeated West Springfield in a tournament final since 2009.
Junior guard Kaily Kocot knocked down a pair of free throws with 1:53 remaining in the second overtime period, giving TC a 67-66 lead. West Springfield had possession and a chance to take the lead with 7 seconds remaining, but Palacio got a hand on the inbound pass, TC junior forward Keyana Roberts secured the ball and the Titans called timeout. Palacio made a pair of free throws to extend the lead to three with 3.4 seconds on the clock and West Springfield's shot attempt at the buzzer was no good.
T.C. Williams made 5 of 7 free-throw attempts in the second overtime period and 9 of 12 in both overtimes combined.
"Just never give up," Palacios said about the Titans' approach. "Our coach teaches us to play hard defense, so we know our defense wins games, so we just kept going with that. Even when our shots weren't falling, that kept our momentum going."
Palacios made two free throws with 8.6 seconds left in regulation, tying the score at 52. As West Springfield brought the ball up the court, TC senior Ajuanae Nelson came up with a steal and headed toward the basket. Nelson attempted a layup before time expired, but missed.
"I had to pull them in and say, 'Ladies, we fought too hard. Believe in yourself and we'll [win it in] overtime,'" sixth-year TC head coach Kesha Walton said. "My senior who missed the layup started kind of hyperventilating, so I kind of had to pull her back in and say, 'You've got this, you've just got to relax.'"
TC entered the first overtime with seven available players after junior Bhrandi Crenshaw fouled out near the end of regulation. With 1:52 remaining in the first OT, two more Titans had fouled out and West Springfield led 58-54.
Palacio tied the score at 58 with a short jumper and a putback, and helped force a second overtime period by going 4-for-4 at the foul line in the final 31.9 seconds.
Palacio finished 10-for-15 from the free-throw line, but made 8 of 9 attempts in the fourth quarter and two overtime periods.
How does the freshman handle pressure free throws?
"Just know you have 10 seconds, so take your time," she said. "If you're not ready, then don't shoot it yet. ... Just look at the center of the rim, I guess."
Palacio finished with a team-high 25 points and received tournament MVP honors.
"Trinity is special," Walton said. "We always joke about her being the baby, but she doesn't play like one. I knew once she got to the free-throw line, she's pretty relaxed and pretty cool, I knew she'd knock those free throws down. If anybody had to shoot a free throw, I would have picked her."
Crenshaw scored 14 points for TC and Roberts finished with 10. Nelson, the team's only senior, made a pair of 3-pointers and scored nine points.
What does Sunday's victory say about the Titans?
"That they don't give up," Walton said. "They fight until the end and they really wanted it."
T.C. Williams defeated Osbourn 65-53 in the opening round of the 6A North region tournament on Tuesday. The Titans host Fairfax in the quarterfinals at 7:30 p.m. tonight.