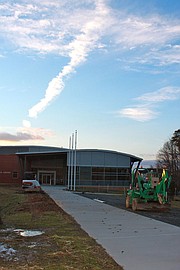 The county Board of Supervisors hearing on the zoning for the future Lake Anne Crescent Apartments was deferred last week.
Because of a problem with Lake Anne Development Partners LLC's affidavit, the public hearing was moved to Feb. 17.
"We will have a public hearing on the case," said Hunter Mill Supervisor Cathy Hudgins. "I hope we have had enough thoroughness with the plan."
She said the zoning case - including the parking waiver - will move forward from the public hearing.
Lake Anne Plaza was the first community that founder Robert Simon built under his New Town concept. More recently, businesses have been struggling and moving out due to the lack of foot traffic in the colder months.
Lake Anne Development Partners LLC is a group comprising more than a dozen companies to create a vision of a Lake Anne that would thrive. The Crescent Apartments are a part of Phase I of the project that is expected to be redeveloped later this year.
"A portion of the existing Crescent Apartment will be redeveloped with two mid-rise buildings housing 165 affordable housing units. There will also be 11 traditional townhomes and 44 back-to-back townhomes during this phase," according to the LADP LLC website.
"The Lake Anne redevelopment has been many, many years in the making," said Reston Association Board of Directors President Ken Knueven. "Reston Association and its members have been involved since the beginning in the planning and design of the application, and while not without some controversy, RA fully supports the effort. This support is obviously conditioned on acceptance of the proffers between LADP and RA."
He said the work between LADP and RA was a test case of a new process RA hopes flourish - making sure there is an internal process companies go through when changing aspects of Reston's landscape. Knueven said the developers committed to many meetings, listened to the community's suggestions and incorporated those suggestions in their plans.
"The Reston Association supports this revitalization plan for Lake Anne – the place where it all started, and as Reston gets poised for its second round of growth, the place where it will start again," he said.
More information closer to the Feb. 17 meeting will be avalible at http://www.fairfaxcounty.gov/government/board/meetings. The proposal can be currently found in the Jan. 27 board package.