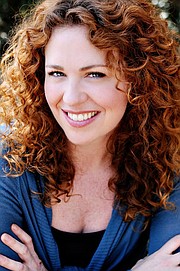 "It is a huge production, but at the very heart it is an intimate story of people in conflict," said Mark Hidalgo, director of the Reston Community Players' upcoming musical "Sunset Boulevard." "The characters are all struggling with the impinging outside world."
"Sunset Boulevard" received multiple Tony Awards including for Best Musical. It has music by Andrew Lloyd Webber with book and lyrics by Don Black and Christopher Hampton. It is based on Billy Wilder's Academy Award-winning 1950 film.

Where and When
Reston Community Players present "Sunset Boulevard" at CenterStage, Reston Community Center, Hunters Woods Village Center, 2310 Colts Neck Road, Reston. Performances Feb. 27-March 21. Friday and Saturday at 2 and 8 p.m. matinees on Sunday, March 8 and 15. Tickets: $20-$23. Call 703-476-4500 or visit http://www.reston...">www.restonplayers.... Note: CenterStage is handicap accessible and offers listening devices for the hearing impaired.
Under the baton of veteran musical director Elisa Rosman and her 10-piece band, the score of over 30 stinging songs will drive the fictional story of Norma Desmond. Desmond is a reclusive former Hollywood star from the silent screen era living in less than splendid isolation in her faded mansion. She takes an unexpected path when she accidentally meets a striving younger screenwriter, Joe Gillis. Soon she hopes to re-launch her movie career with Gillis support.
The iconic, challenging role of Norma Desmond will be played by Helen Hayes Award and WATCH Award recipient Katie McManus (Oakton). "Playing Norma Desmond is certainly a dream role," said McManus. "She has beautiful songs to sing, and her story is neurotic, lovely, and heartbreaking. She's got it all!"
The intricate "Sunset Boulevard" will "resonate with audiences since the characters run such a wide range of emotions; cheeky, witty, devious, manipulative, sympathetic and vulnerable," added McManus.
"'Sunset Boulevard' is the musical that first got me involved in musical theater." said Reston Players President and actor, Joshua Redford (Reston) who plays Gillis. "There aren't too many dramatic musicals out there and it is a dream come true to be playing this role."
Another key role is Max, first seen as the hired butler. Over time he will be revealed as much more than merely an employee. Paul Tonden plays Max. "He presents a sense of gravitas throughout the show; a man with expressive eyes that say a great deal that will register with the audience," said Tonden.
There will be a grand set for the audience to take in. Visiting a recent rehearsal, set builders were in the midst of constructing an 18-foot curling staircase with landings as the centerpiece of the show's stage set. There will also be projections to add to the show's punch.
"'Sunset Boulevard' reminds us that everybody struggles with the need to stay relevant, especially in today's fast moving world," concluded Hidalgo.