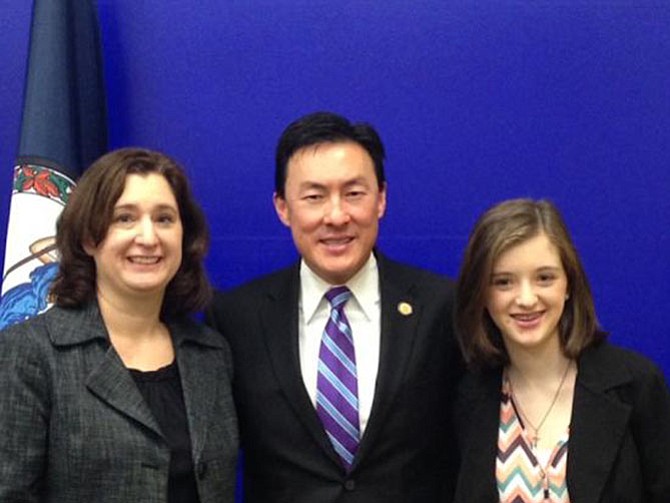 The Virginia House of Delegates passed legislation this week to require restaurants in Virginia to train their employees to be aware of customers with food allergy and safety issues. Del. Mark Keam's House Bill 2090 and its companion Senate Bill 1260 introduced by Senator Creigh Deeds passed both chambers of the Virginia Legislature with overwhelming support. Both bills are now headed to the Governor's desk.
Claire Troy, a 14-year old constituent from Vienna who, along with other members of her family, suffers from food allergies, brought the idea to Keam. She asked her delegate to help ensure that restaurant workers are able to address the needs of customers who may suffer severely if the restaurant inadvertently prepares food or uses ingredients without properly guarding against allergic reactions.
Troy and her mother traveled to Richmond in January to testify in support of Keam's HB 2090 at a subcommittee hearing of the House Health, Welfare and Institutions Committee. Troy's testimony included well-documented economic analyses of potential benefits to the restaurant industry if they adopted food allergy awareness best practices.
"When this bill goes into full effect, Virginians who suffer from food allergies can be comforted knowing that every restaurant in the Commonwealth will have staff knowledgeable about food safety issues," said Keam. "I want to thank my young constituent Claire Troy for coming to Richmond to testify on its behalf, as well as the Virginia Restaurant Association and Department of Health staff for working with me on this important legislation," said Keam.
The details of these bills are available at lis.virginia.gov.