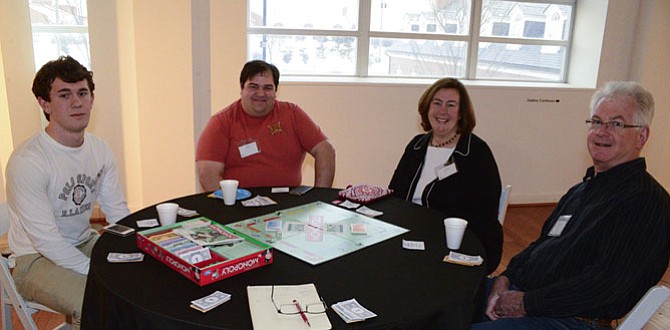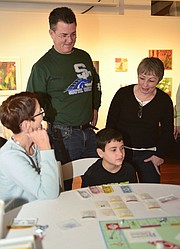 On a cold, snow-approaching Saturday, nearly 100 men, women and children hunkered down to play three rounds at the 8th Annual Ron K.'s Monopoly Tournament hosted at the Lorton Workhouse Arts Center in Lorton. Entrants from Dumfries, Centreville, Fairfax and D.C. braved the impending snowstorm to play and ply their luck and skill.
On one side of the room were four tables of children. Some tables were intense and serious where last year's fifth place winner, Tabitha Missner of Dumfries, attempted to advance to the second round. At other tables young players stood and cheered as they moved their piece around the board. The other 12 tables, filled mostly with adults, were quiet as players made investments and trades building equity and strategic positions. Del. Dave Albo (R-42) was at one table while his son Ben was trying his luck at another.
Sixteen tables were set up for round one, a four-player round. After one hour and fifteen minutes the top two players from each table advanced to the second round. Total assets of money and property determine winners.
Mikal Sykes of Lorton reached the top spot and emerged the winner of the 8th annual Monopoly Game Tournament. "I've played once before, but didn't make it to the final table. Of course, this year, it feels great to win first place," said Sykes.
In addition to Sykes winning the top prize of $500, eight-time player Toney Mooney won second place and received $250, and newcomer Adrian Herzig placed third earning $100. Bernard Sloan, John Migliaccio , and Melson Varsovia rounded out the top six and received trophies.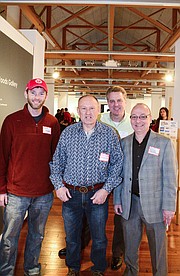 "I am proud to host this annual event to raise money for a great cause and bring some fun into real estate by playing the classic game of Monopoly," said Ron Kowalski, the event's sponsor. "We were very happy with this year's turnout, particularly the twenty local businesses who sponsored a table, or provided good and services."
Kowalski started this tournament eight years ago as a local fundraising event. The recipient of the funds from the tournament is Lorton Community Action Center (LCAC). Based on initial count Kowalski's Monopoly Tournament would donate close to $8,000 to LCAC.
Linda Patterson, Executive Director of LCAC, highlighted their work. "Over the past year the need for help has not decreased", said Patterson. "We currently provide food every week to more than 280 families which is up from last year. Sequester took its toll on our community." With the help of local food stores - Giant, Wegmans, Costco – and in partnership with the Capital Area Food Bank and local farmers LCAC is able to provide fresh produce, meat and canned food to help feed 1700 people in need.
LCAC's 700 volunteers provide help with utility bills, nutrition and financial planning and free tutoring. The Lorton Community Action Center has been serving the needs of low-income individuals, senior citizens and families residing in Fort Belvoir, Lorton, Newington and other portions of southeast Fairfax County for forty years. Mark your calendars for March 14 as LCAC will be holding its annual fundraising gala at Harbour View located alongside the historic Occoquan River.
If you're interested in volunteering visit http://www.lortonaction.org.
— Terrance Moran