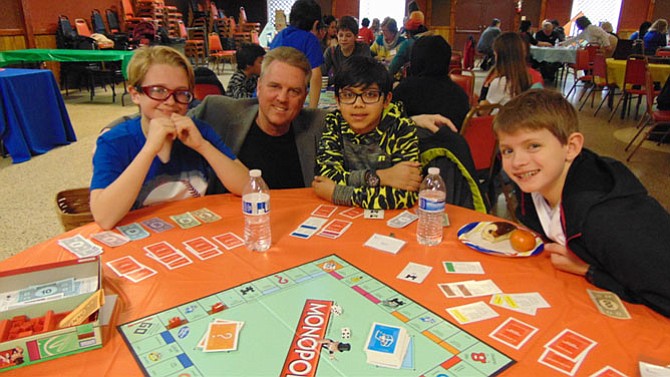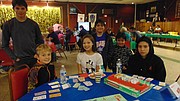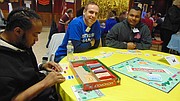 About 70 players participated in the 11th annual Ron K's Monopoly Tournament at the Woodbridge Moose Family Center #583 in Lorton on Saturday, Feb 24, 2018, which raised about $5,000 for charity. Players competed on 14 tables in three rounds for the top prize of $500 in real money.
The annual event was sponsored by the Ron Kowalski Real Estate Group through Keller Williams Capital Properties in Springfield. The first year they did the tournament, in 2003, they had 30 players and raised under $700. After 11 years, they have raised $60,000 for charities to date.
After three heated rounds, the first-place winner of the $500 prize was Avyuk Dixit; second-place winner of $250 was Aubrey Pruitt; and third-place winner of $100 was Dan Poling, whose family has attended every year and both of his kids have won in the past. The fourth-place winner (trophy) was Bernard Sloan; fifth-place (trophy) was Michael Atlan; and sixth-place (trophy) was Brian Doty.
"Every year I say I should stop doing this, but I can't," said Kowalski, who used to work for Hasbro Toys, maker of the Monopoly game. "We've had people who have been here every single year. They're here today. It's a lot of fun."
THIS YEAR'S charity recipient – the Lorton Community Action Center (LCAC) – will receive $5,000; it is a human service nonprofit that serves the Southern portion of Fairfax County by feeding 300 families a week with its food pantry, plus other supportive services.
"The monopoly tournament is important to LCAC because it not only brings in funds which helps families in need in the community, but it also helps raise awareness of the work that we do in the community," said Linda Patterson, LCAC Executive Director. "Folks who come here may not know of the work that we do and may be willing to volunteer or support us in other ways, and that's important because when you're serving more than 300 families a week, we need all the help we can get in the community to make lives better."
For the tournament, each player paid a $25 entry fee, which entitled them to breakfast and lunch. There were three levels of table sponsors by local businesses: Level One or Round One, which was a $300 sponsorship; Level Two or Round Two, which was $500; and the final $1,000 table which featured a Franklin Mint Edition Monopoly game with gold houses and silver hotels; Barr Concrete of Lorton was the sponsor.
KOWALSKI said that Monopoly is a skilled-base game but it also has luck and chance involved, so therefore all ages can play. "Our tournament minimum is age 8, but it's a game of chance and skill so anybody can play. We've had anyone here from age of 8 to 80," he said.
He added, "I think the trick in a Monopoly tournament game play is to be aggressive and make trades. It's only an hour and 15-minute round, so if you see an opportunity to make a trade for a property, do it – be aggressive."
Glory Days Grill of Lorton sponsored the lunch for free and South County Church provided the breakfast. The Woodbridge Moose Lodge in Lorton provided the space at no charge, and the Ron Kowalski Group covered the incidental fees for things like prizes, decorations and trophies.