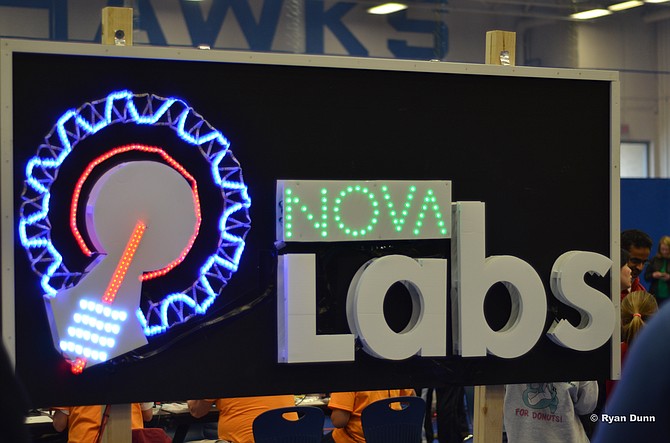 A family-friendly showcase of invention and creativity will return to Reston on March 15. Tech enthusiasts and innovators will gather March 15, in Reston as the second annual NoVa Mini Maker Faire meets at South Lakes High School and Langston Hughes Middle School. The original Maker Faire event was held in San Mateo, Calif., and has since been held in other cities. "We anticipate to have more makers and longer hours," said Jeanne Loveland, one of the coordinators of this year's show.
Last year was the first NoVa Mini Maker Faire, which sold over 3,000 tickets, and more than 300 volunteers helped guide visitors to various displays related to technology and engineering. The success of last year's show has helped in preparation for the NoVa Mini Maker Faire in March.
According to Brian Jacoby, one of the Faire organizers, the Faire is a showcase of invention, creativity and resourcefulness and a celebration of the Maker movement, the tech-influenced DIY community that is generating new products and services. Faire-goers can participate in workshops, food, performances, and a series of short talks. Attending again this year will be the D.C. Area Drone User Group, which is dedicated to teaching people to build and operate their own flying robots and promoting positive social applications of civilian drone technology.
"Northern Virginia has long been a hotbed for technology, innovation, creativity, and the entrepreneurial spirit," Jacoby said. "The NoVa Mini Maker Faire will bring together a diverse audience of all ages interested in technology, engineering, arts, crafts, food, music, science and sustainability." Last year, faire volunteers gave basic soldering instructing, information on 3D printers, and displayed art made of fiber optic cables. Visitors to last years faire included Fairfax County Public School faculty, U.S. Rep. Gerry Connolly (D-11), Fairfax County School board member Pat Hynes (Hunter Mill), and Reston founder Robert E. Simon Jr.
"We're looking to build on our success from last year to make this year an even more engaging Nova Maker Faire," said Brian Jacoby. "We have an Eagle Scout organizing a Nerdy Derby," (think Pinewood derby but with a minimum of distracting rules) "competition for all ages. Many of the Nova Labs community are planning to be maker-exhibitors and volunteers to keep things running smoothly."
THE 2015 CALL FOR MAKERS is open through Jan. 23 at http://makerfairenova.com/call-for-makers/. Makers of all kinds are encouraged to apply. There will be a series of informational meetings for both makers and attendees to be held around the Northern Virginia area. Tickets are available online now. Early bird tickets are available at $10 for adults and $2 for children through Jan. 23. Regular tickets are $15 for adults and $5 for children through March 14. Tickets at the door are $20 for adults and $8 for children.
NoVa Mini Maker Faire is independently organized by Nova Labs and is operated under license from Maker Media, Inc. Recently, Nova Labs relocated to a facility at Sunset Hills Road to 1916 Issac Newton Sq West in Reston. The move marks the culmination of three years of continued growth for the non profit organization, which with support from Veatch Commercial Real Estate was founded by 14 makers in 2011 and bootstrapped with no capital.
Sponsors and community partners for this year's Maker's Faire include the Community Foundation of Northern Virginia, Fairfax County Public Schools, Reston Community Center, GEMS, Workhouse Arts Center and Merrill Lynch. Additional sponsorship opportunities for the Faire are still available.