Reston — Tech enthusiasts, inventors, entrepreneurs, educators and curious minds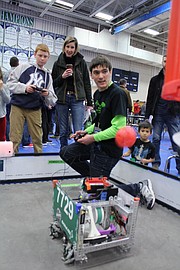 gathered last weekend at the 4th annual Maker Faire.
The event, previously known as the NoVa Mini Maker Faire, was Sunday, March 19, at the South Lakes High School and the Langston Hughes Middle School on South Lakes Drive in Reston.
From engineers to artists to scientists to crafters, the Maker Faire is an opportunity for "makers" to show hobbies, experiments and projects. More than 100 makers shared their knowledge through hands-on projects, demonstrations, workshops and a speaker series in areas of art, engineering, robotics, drones and 3D printers. Students and schools also shared how making and innovation occurs in education.
New to this year's event was the NoVa Maker Educator Meetup, which gave educators an opportunity to network and learn from their peers in the region. A group of experienced educators shared brief presentations describing their maker programs.
A complete list of makers who participated at the event can be found on the Maker Faire NoVa website at www.nova.makerfaire.com.