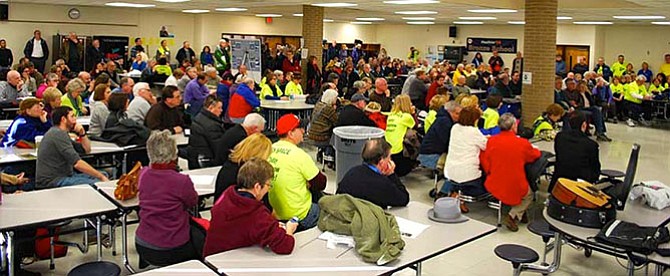 Rescue Reston wants to see a sea of yellow T-shirts on Jan. 21.
The organization wants supporters to show that local residents do not want the Fairfax County Board of Zoning Appeals to allow Reston National Golf Course to be bulldozed.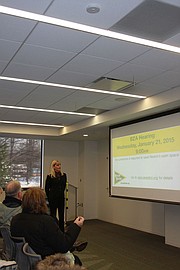 During a press conference on Jan. 7, Rescue Reston President Connie Hartke said the organization wants to help defend the 166 acres of land.
She said the current owner of the golf course inquired to the county whether they had the ability to turn the land into medium-to-high density housing. The land, Hartke noted, is close to the local Metro center and is considered gold to developers.
"This is an amenity used by many," she said. "It is used by wildlife. It is used by runners, walkers."
More importantly, the county had written in the master plan that the land cannot be used for anything but open, recreational space. She noted that Reston was founded as a golf course community and the first residents were given membership to get more people to move to the area.
"Reston's open space is unique," she said. "It was planned from the beginning."
She said that RN Golf Management is the name on all the paperwork. However, Northwestern Mutual bought the golf course for $5 million about a decade ago.
"That $5 million is not even a rounding error on their budget sheet," she said. "Don't even feel sorry for them."
She added that an "undisclosed developer" is hoping to add housing to that open land.
One of Rescue Reston's founding members John Pinkman said he found out from an unidentified source that the developer is Lerner Enterprises.
"Why hide?" he asked.
Media representatives for Learner Enterprises did not respond to calls about the inquiry.
The appeal is not to change the zoning, Pinkman said. The claim is that the area was intended for housing when Reston was first zoned in the 1960s. When the company inquired about the zoning, he said the county staff said the change would be against code and would not recommend pursuing it.
As a resident near the golf course, he did not want the high density housing that is planned by the undisclosed developer to take over beautiful views of the land that the current homes have.
"Imagine living on a street called 'The Former Golf Course View,'" he said.
Reston Association President Ken Knueven talked about his support for Rescue Reston and the importance in keeping to the Reston Master Plan.
"If we are no longer a planned community, we are no longer Reston," he said.
The BZA meeting is planned for 9 a.m. on Jan. 21 at the Fairfax County Government Center, located at 12000 Government Center Parkway, Fairfax. Hartke said Rescue Reston needs as many supporters wearing bright yellow as possible during the hearing. To buy a shirt, visit http://www.rescuereston.org.
"Some people make things happen," said Pinkman. "Some people watch things happen."