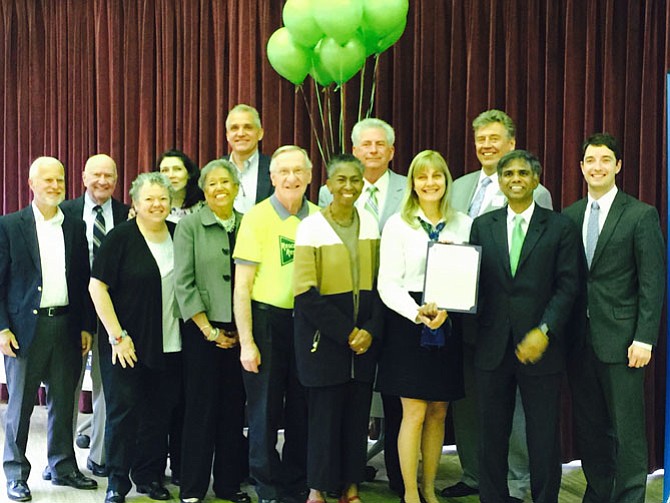 U.S. Rep. Gerry Connolly told the Speaker of the House about Rescue Reston, Reston citizens and Robert E. Simon Jr. and his vision.
"Rescue Reston is a grassroots organization comprising thousands of Restonians who united to support preserving the Reston National Golf Course as open green space," said Connolly.
On Sunday evening, April 24 at the Reston Community Center, Reston Citizens Association named Rescue Reston and all of its members and participants the 2016 Citizen of the Year. Reston Citizens Association is a nonprofit founded in 1967 that serves the 60,000 people who live in Reston,
"It is fitting that this award is given by one grassroots organization to another," he said. "It speaks yet again to the legacy that the founder of Reston, Robert E. Simon, leaves behind. I believe that such a high level of engagement is one of the best indicators of a healthy and vibrant community."
RESTON CITIZENS ASSOCIATION seeks "to promote Reston's vision and planning principles and to sustain and enhance its quality of life now and in the future," according to president Sridhar Ganesan.
John McCrea nominated Rescue Reston for the award. He said he moved to Reston because of the open space and the recreational opportunities to be found in Reston.
"Rescue Reston fired us up to preserve what is best for Reston," he said.
Owners of Reston National Golf Course had hoped to build housing on the land in the future, but a county circuit court ruling in the fall will require them to go through the usual zoning process to do so.
Circuit Court Judge Michael F. Devine made a ruling that protects Reston National Golf Course from being developed, at least until the owners of a golf course navigate the proper channels to seek a land use change, or continue to appeal its case.
Judge Devine granted Fairfax County Attorney Laura Gori's motion for summary judgment filed by Fairfax County, meaning the Circuit Court vacated and voided the April 15, 2015 county Board of Zoning Appeals (BZA) decision concerning the Reston National Golf Course.
"The circuit court ruling on Friday, Nov. 6, is considered a defeat for the owner of the golf course and is significant because any redevelopment of the course must now be preceded by the filing of specific plans with the county, which will then be compared with the 'Development Plans' approved in 1971," said John McBride, Reston Association's legal counsel.
"These plans are in the county zoning files and clearly limit use of the land to a golf course, open space and driving range. Any change to these approved plans will require amendment approval by the Fairfax County Board of Supervisors. The golf course owner had sought to avoid this requirement for a plan amendment by seeking by-right use status for a number of residential and other uses."
GANESAN CALLED it a "unique" year to be able to offer the citizen of the year to Rescue Reston, its Board, and all citizens that became involved in Rescue Reston's efforts to help preserve Reston National Golf Course from development.
"Every year, we take this time to celebrate," said Ganesan. "We do this by honoring the citizen of the year. Through this we spotlight the work of volunteer citizens and their actions. They are the heroes that make Reston what it is."
"Thousands of citizens united behind the Rescue Reston cause which resulted in a great public common good for Reston," he said. "Being an association of, by and for the citizens, RCA is proud to honor this organization that represents a citizen-led movement."
Connie Hartke, now president, and John Pinkman were two of the original founders of Rescue Reston in 2012.
"Connie Hartke, she's a pit bull," said Ganesan. "She takes on an issue and you can't stop her."
Hartke thanked the people of Reston that committed to the battle that she says is not over. She said Rescue Reston has received donations all the way from Paris, and donations ranging from $1 to $2,000 from individuals. Two businesses, Apex and Achieve-it, made $5,000 donations to Rescue Reston.
"We were up against an opponent that had three different law firms working for them," she said. "Their unlimited budget for attorneys was met by our team."
The Board includes Hartke; Joe Deninger, vice president – finance/treasurer; Robin Hogan, vice president – communications; Lisa White, vice president – technology; David Burns, director; John Pinkman, director; and Ray Wedell, director.
"Look at the all the work we have done in that time," said Pinkman. "I thank you. My family thanks you. I thank you for the future.
"I hope we don't have to do this again in this lifetime," he said.
THE SECOND ANNUAL Golf Tournament and Nature Hike is scheduled on Monday, Oct. 3, and the Walker Nature Center will sponsor the nature hike along the course. Already 20 of last year's business sponsors committed to sponsor the event again this year.
She reminded everyone of Robert Simon's comment about the golf course on Aug. 14, 2015.
"The Reston National Golf Course area should remain as open space forever," said Simon.
"Northwest Mutual invested in a golf course. A golf course is what they have," said Hartke.
"Mr. Speaker," said Connolly, "the efforts of Rescue Reston on behalf of the greater Reston community are selfless undertakings which are truly worthy of our highest praise. I commend them on their award and ask my colleagues to join me in congratulating them."