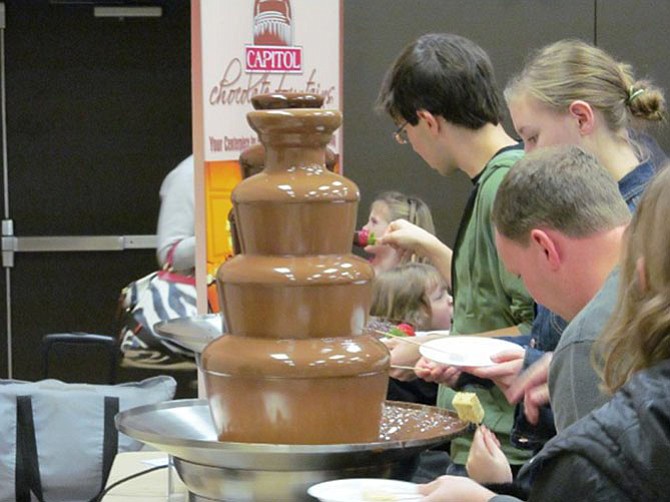 One day every year, McLean Community Center is a chocolate lover's dream.
The McLean Chocolate Festival will host 17 vendors selling decadent artisan chocolate goods on Jan. 25, ranging from candies to chocolate dipped bacon.
And it is all for a good cause.
The festival, which has a $2 entry fee for visitors older than 6, will be from 11 a.m. to 5 p.m. at the community center located at 1234 Ingleside Drive.
"The great thing about this festival is that you'll find chocolates you won't find anywhere else," said McLean Rotary member John McEvilly.
The festival began four years ago as the McLean Rotary's desire to work with the McLean Community Center.
"The original thought was to do something around Halloween," said McLean Rotary member Jan Auerbach, event organizer.
She said the community center representatives told her that the events calendar was already packed for fall and that the post-new year calendar had more room for a festival.
"When they said that, it just popped into my head — a chocolate festival," said Auerbach.
That year, McLean Rotary was not expecting many visitors because the event was advertised through word of mouth. To everyone's surprise, 2,700 people showed up.
"We overwhelmed the place," said Auerbach. "It was a madhouse."
McEvilly said they could have had more people if the line to pay the entry fee had not been so long.
"People were leaving because the line was out the door," he said.
McLean Rotary moved the festival to McLean High School the following year, but said the event belonged at MCC.
This year, 17 vendors will sell chocolate items. In addition, American Heritage, a division of Mars Co., will be doing demonstrations on how chocolate was made during the colonial days.
"There's enough variety between the vendors," said McLean Rotary member Michael Arietti. "Some make sweets. There's one that brings a chocolate pizza. There's chocolate-covered bacon."
The festival will have the children's game room like it has in past years. This year, local act Ukulele Phil will play at 11:30 a.m., 1:30 p.m. and 3:30.
In past years, McLean Rotary has made more than $8,000 to raise money for local organizations and schools. In addition to the entry fee, the Rotary also makes 25 percent off of vendor sales.
Some of the specific items the money goes towards are high school scholarships books for students in need. Visitors who want to learn more about the local rotary club can look out for the information booth at the event.
"It all stays local," said Auerbach. "We pay dues, so all our administration costs are paid for."
For more information about the McLean Chocolate Festival, visit http://www.mcleanchocolatefestival.org. More information on the Rotary Club of McLean can be found at http://www.mcleanrotary.org.