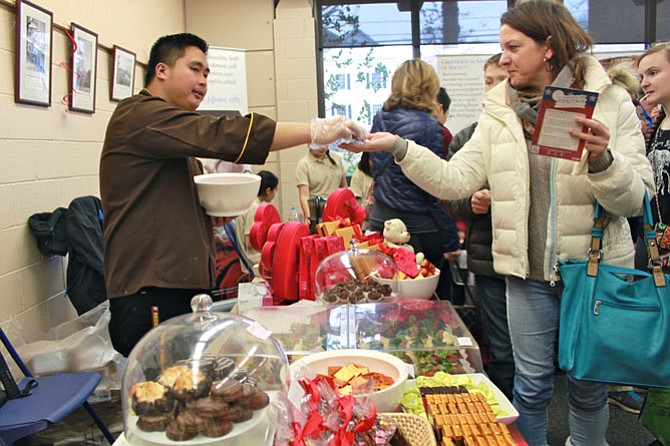 Chocolate covered bacon, chocolate covered marshmallows, chocolate gelato... And the list goes on.
The fourth annual McLean Rotary Chocolate Festival attracted hundreds of sweet tooths to the community on Sunday, Jan. 25, to indulge in their favorite treats.
"It's our first time here," said Jennifer Rossman, McLean. "It's epic."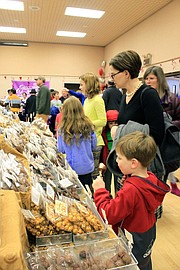 She brought her son, 4-year-old Henry, whose favorite treat is chocolate.
"On the way here, he asked if there was going to be any chocolate here," she said with a laugh.
This year, nearly all of the 17 vendors at the festival sold some type of chocolate. Some sold pre-made chocolate bars. Others sold bon bons. A select few local vendors sold specialty items like chocolate-dipped bacon or extra gooey fudge.
"We've been counting tickets all day long," said Jan Auerbach, event organizer. "It's great. People are really queueing up at the American Heritage booth."
During the event, she was not sure how many tickets were sold by mid-afternoon, but she had already gathered tickets twice and saw the number of people packed into the two community rooms. On the other side of the community center was a children's play area. Every few hours, local music act Ukulele Phil would play.
The room where American Heritage - a division of Mars - was doing a demonstration on how people made chocolate during colonial times was so popular that visitors stood shoulder to shoulder to watch while eying the other vendors in the room.
"We have a bunch of new vendors and they really seem to be doing well," Auerbach said.
Cevinyon owner Tenja Young, D.C., said McLean Rotary's cause is the main reason she decided to sell her original square cookies at the event.
"The whole purpose is because of the great cause it's benefitting," she said.
In past years, McLean Rotary has made more than $8,000 to raise money for local organizations and schools. In addition to the entry fee, the rotary also makes 25 percent off of vendor sales.
Some of the specific items the money goes towards are high school scholarships and books for students in need. The rotary also has annual character awards to honor local students.
Auerbach said that the growing event seems to run "smoother and smoother" every year. The first year of the festival, the rotary was unprepared for the barrage of chocolate lovers that showed up at the door before the event even started. Four years later, the lines moved quickly, letting families and groups of friends enjoy sampling treats rather than standing in line. The Wilke family, who recently moved from Germany, was one of them.
"The samples are excellent, of course," said Mario Wilke, McLean. "Especially for the kids."