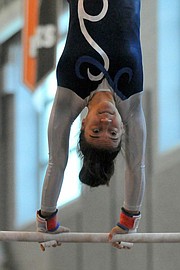 On Feb. 2, one of the top gymnastics teams in Northern Virginia will be left out of the 6A North region championship meet.
Washington-Lee, the three-time defending region champion, McLean, last year's state runner-up, and Yorktown have the talent to compete for a region title. However, all three teams are members of Conference 6, and only the top two teams from each conference advance to regionals, meaning one will be eliminated from contention nine days before the region meet even takes place.
The Conference 6 championship meet, scheduled for Monday, Feb. 2 at McLean High School, figures to be a pressure-packed event. But before that date arrives, W-L capitalized on an opportunity to have some fun and add another piece of hardware to the trophy case.
The host Generals won the Barbara Reinwald Invitational on Jan. 24 at Washington-Lee High School, finishing ahead of 12 other schools. W-L posted a score of 105.75, followed by Yorktown (101.55), T.C. Williams (97.725), Fairfax (93.45) and Woodson (90.975).
Team scoring at the W-L Invitational is based on top three, rather than top four.
"It's really, really awesome," W-L senior Sophie Hatcher said. "I'm a senior and this is my last home meet ever and it's my last Invitational ever. That was really fun for us. ... Sometimes I'm really stressed out about meets but today we just had a lot of fun. We went really hard and we all were focused and it ended up going really well."
Hatcher and her twin sister, Annie Hatcher, finished second and third, respectively, in the all-around competition one day after being accepted to the University of Virginia.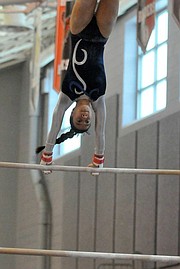 Sophie Hatcher produced a score of 36.35. She placed first on vault (9.55) and floor (9.425), second on bars (9.025) and eighth on beam (8.35).
"It was my best floor and bars ever tonight," she said. "Beam was not what I hoped it would be — two falls on things that I never fall on. It was either nerves or I just wasn't focused enough, but I just had to move past that and get to floor.
"... It's nice to know I can do better and still place well in the all-around."
Annie Hatcher finished with a score of 35.35, placing second on vault (9.475), fourth on floor (8.7) and beam (8.875), and eighth on bars (8.3).
"I think we're doing really good," she said. "We always say at the end of each meet we can always do better. We have a good chance [to qualify for regionals]."
Fairfax senior Rachel Barborek won the all-around with a score of 36.525.
Saturday's first-place finish was W-L's sixth in eight meets this season. However, the Generals hosted a meet two days prior and finished third behind McLean and Yorktown.
"It gave the girls a boost that the season's not over," W-L head coach Joe D'Emidio said of Saturday's performance. "It's anyone's meet at the conference [championships]."
Yorktown head coach Joanne Price, who said the Patriots weren't at full strength on Saturday, praised the performances of sophomores Juliette Mitrovich and Olivia Zavrel.
Mitrovich placed fourth in the all-around (34.975), including a first-place finish on beam (9.525).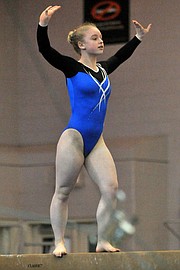 "Juliette did pretty well," Price said. "It wasn't her best meet and she would say that too. Beam, she did wonderful. Bars, she's trying something new and it's a really difficult skill. She was going for her double back, which is two flips off of the high bar. It's kind of new for her and she went for it and hit her feet on the low bar [and] had to stop, so it wasn't a typical routine for her, but up until that point it was amazing."
Zavrel placed in the top eight on beam (sixth, 8.6), bars (seventh, 8.5) and vault (eighth, 8.575).
"[She is] much taller than the average [gymnast]," Price said of the 5-foot-8 Zavrel. "... In gymnastics, it's very hard to control all that height. However, when she hits her routines on beam and bars, I think it helps her because her lines are so beautiful when she's doing the skills."
Price said Monday's conference meet will be a challenge for the Patriots.
"Our conference is the hardest by far because McLean and W-L" have been the top two teams in the region each of the last three years, Price said. "Going up against them in an entry-level meet is a hard position to be in. They're both excellent teams. ... We have yet to see our full team compete together. ... We've seen each of our girls compete but never together as a full team."
D'Emidio said W-L's region-championship experience should help the Generals keep their composure Monday night.
"The kids have been there before," he said. "They know what the pressure is like. Just like this invitational meet; I think we had the coolest kids on the equipment. They were calmer, they weren't as wobbly as some of the other teams because they've been there. They [expected] to win that trophy."