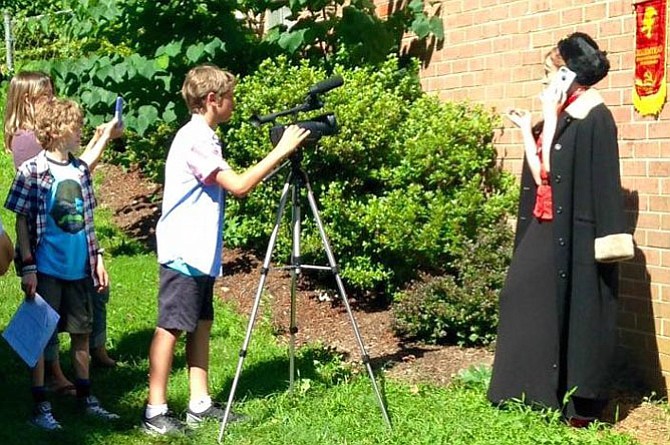 Fairfax resident Dani Weinberg thought she wanted to be a journalist. That was until she joined the crew of her high school's television program "Good Morning Robinson." Combined with her photography for the Robinson Secondary School newspaper, Weinberg started getting "really into film."
She went on to study filmmaking and video production at the Art Institute of Washington, D.C. After graduating she became a freelance film editor. With her extra time, she made a documentary about the closing of Clifton Elementary School. When she considered her options for showing the film, it struck her there weren't any local outlets for that type of work.
"I always wished in high school I had something locally to submit to," said Weinberg, "something easy for my friends and family to go to. I wanted to give that opportunity to people."
At 21, she started a local film festival in her hometown of Clifton, meant to give student filmmakers in particular a venue to showcase and develop their skills and passions through original works between 30 seconds and 10 minutes in length.
THE FIRST YEAR 10 films were screened and judged.
"People seemed interested in it, inspired," Weinberg said. "They came there and said, 'Wow, my friends, these people made films. I think I could probably do that too,' and came back and made it the next year."
And more entrants did return the next year. By 2011, the festival had grown too large for the historic town. Weinberg and company were allowed to use the quad area of the Workhouse Arts Center in Lorton to continue to grow the event.
"This is a great match for the mission and purpose of the Workhouse," the venue's director of performing arts Joseph Wallen said in an email, "as it showcases the artistry of the next generation of filmmakers and through a juried awards process has found a balance that both encourages and celebrates the creative spirit."

Now in its seventh year, the July 18 festival has over 22 submissions from students and several adults. A panel of expert judges awards prizes of film software subscriptions to the entry voted as best picture, best story, best sound, best editing and best cinematography.
The awards are purposely not simply a cash prize; Weinberg's intent is to nurture creativity and growth in anyone willing to try and succeed at the craft.
Of filmmaking, she said, "Some is talent, some is creating the film, spending the time, energy and effort. I encourage anyone that's interested and wants to try it out -- they might be surprised what the outcome is."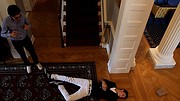 June Robinson Secondary School graduate Alex Bulova submitted a film he worked on with a team of classmates for the school's International Baccalaureate film studies class.
"L'Échange" is a "riff on noir films and mob films," said Bulova, who plans to attend the College of William and Mary in the fall and study film and international relations.
Filming took place over four days in Richmond, while editing lasted about a month. In the capital city, the shooting team was granted access to the governor's mansion.
"It was the coolest thing," said Bulova "We were told the last person to film there was Steven Spielberg for 'Lincoln.' I like to imagine we're on similar levels at this point."
Bulova said he learned how filmmaking can be a collaborative process and an artform.
"It's such an intense balancing act: having a great story and also conveying all these emotions in the background, almost like a game, trying to imagine how to share emotion," he said. "Movies have the potential to express the big emotions but also the small emotions, and capture the subtlety of life. That's what I strive for."
Like Bulova, 2015 South County High School graduate Jacqueline Olivo also plans to study film in college -- in her case at the University of North Carolina School of the Arts. She's submitted to the Clifton festival numerous times; Weinberg and Olivo have seen each other grow up.
"It's gone from a very small festival that lumped in every film all together to a rather large festival with a presence in the community that attracts families and other people," Olivo said. "It does a good job of taking selections that can really compete against each other."
OF OLIVO, Weinberg said she's impressed with "her dedication, how she strives to make really great films and makes really good stuff."
"It's exciting to follow the people's careers, just the fact they keep getting better at their craft," Weinberg added.
Olivo's entry for 2015 is called "Friday the 14th." She describes it as "starting with a romantic comedy vibe" then switching to horror.
Olivo said she loves filmmaking because "I believe it's the highest form of storytelling: You get visual storytelling as well as what you would get from a book -- the script -- acting like in theater but also a different element that puts the viewer into the story."
Entrant Johnathan Breaux is submitting again this year as well. Though not in high school yet, the 12-year-old Kings Park West resident is already an accomplished director and professional actor using the stage surname Newport.
Breaux's submission for the 2015 festival is a political satire called "Philmoria" that follows the adult main character Philmore Filmore as he secedes his property from the United States, forms alliances with foreign powers and is spied on by American child operatives.
To produce "Philmoria," Breaux worked with both peers and adults. "It takes patience, discipline, and compassion towards others to be a good filmmaker," he said, "to bring out the best in the them."
"I also learned don't over complicate things," Breaux added. "Try to stay to the point on the shot, know what you're doing beforehand."
The 7th annual Clifton Film Festival takes place July 18 at the Workhouse Arts Center, located at 9518 Workhouse Way in Lorton. For more information on the festival, visit www.cliftonfilmfest.com.