Photo Gallery
Clifton Film Fest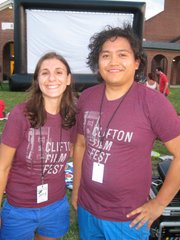 Click Photo for Flash
Hundreds of people turned out for the fifth annual Clifton Film Fest under the stars, complete with a "Red Carpet," at the Workhouse Arts Center in Lorton Saturday. It's the only local, community-wide film festival that's not in D.C.
Created by Dani Weinberg, 26, of Clifton with Eugene Abedejos, 29, of Alexandria, the festival outgrew its space in Clifton and moved to Workhouse Arts Center after two years.
"We have things that are controversial, in a good way, educational, fun, and well-written. There's a lot of talent in this area," said Weinberg, a Robinson Secondary graduate who majored in film at the Art Institute of Washington, located in Arlington.
A panel of six judges watched 18 independent films in DVD digital format that ranged from 4 to 12 minutes: student films (ages 12-18) and adult films (ages 19-plus). The films can all be seen on YouTube. Visit www.CliftonFilmFest.com or www.YouTube.com/CliftonFilmFest.com for the links.
The original works included comedies, horror, documentaries, animation and music videos. Prizes were awarded for Best Picture, Best Story, Best Cinematography, Best Sound and Best Editing in both the student and adult categories. The top prize was a one-year membership to Adobe Creative Cloud software, valued at $2,000. After the show, the judges gave feedback to the filmmakers through email.
"I want people to get real feedback and to reward filmmakers with prizes to better their filmmaking," said Weinberg.
For five years, Eugene Abedejos, 29, of Alexandria has worked closely with Weinberg on the technical aspects of the festival. He manned the control-room computers, and created bumpers and intros for each film. "I wish we had something like this when I was younger," he said. "It gives the filmmakers confidence because they can see the audience's reaction."
Workhouse Arts Center CEO John Mason was delighted to host the film fest, which used the venue free of charge. "The film fest is preceded by music," he said. "The wonderful aspect is it's a very unique festival."
Katherine Loop, 28, of Fairfax entered her seven-minute short "Life in Reverse – Selma's Story" about a woman living with dementia. The footage was shot eight years ago and Loop mixed the documentary after Selma died. Her efforts won the Best Story award.
Seth Scofield, 37, of Occoquan, entered his three-minute documentary, "Dahlonega, Georgia's Golden Destination," about the first American Gold Rush in the 1800s. It was shot about 15-20 miles from where the Appalachian Trail starts in Georgia. His mother is part Cherokee Indian; and the Cherokees controlled the Appalachian mountains for hundreds of years. "The talent in this area is remarkable, and [the Clifton Film Fest] is a great place for young adults to show off their skills," said Scofield, a University of Georgia professor who teaches film and photography.
Last year, Scofield, who is also an actor, entered his film, "Always Right," an experimental film about friendship, in the Clifton Film Fest. He describes the festival as promising: "You're able to present your work in a more intimate setting."
Filmmaker Kayleigh O'Connell, 27, of Fairfax entered her animated short, "Puyos Episode 4, Boo Boo," about three Puyos playing basketball. She spent several months creating the film on Anime Studio software. "I started out by making comic strips, then puppets and then animation dialogue," said the self-taught 2006 Robinson Secondary grad.
Sean Cooper, 17, of Centreville entered his film "Sessions," about a sociopath who is court-ordered to see a therapist after a violent outburst. He becomes further isolated and more irritated in the film. Cooper, a Robinson Secondary senior, worked on the seven-minute film with about 10 people over a period of five weeks.
Winners in the 19-Plus Category
Best Cinematography:
"A Long Time Lost" by Ashley Blue
Best Editing:
"Out of Service" by Brett Line
Best Sound:
"My Strength" by Brian Rose, So Choi-Sam Kim, Mike Luu and Shawn Neifert
Best Story:
"Life in Reverse" by Katherine Loop
Best picture:
"Out of Service" by Brett Line


Student Winners
Best Cinematography:
"Coffee Shop" by Stevan Struckmeyer and Joey D'Alessandro
Best Editing:
"Take It All" by Megan Zinn
Best Sound:
"Rain" by Natalie Mills
Best Story:
"June" by Matthew Ross
Best Picture:
"Sweet Dreams" by Derek Allen, Robbie McDonald, Chase Buesking and Jordan Buzzell